The reckoning for the Rochester Democrat and Chronicle came after New York state passed a law making it illegal to discriminate against someone based on hair texture and hairstyle.
Second in the nation, the 2019 law was seen as a layer of protection particularly for Black people who have long faced scrutiny and discrimination in schools and the workplace based on their hairstyles. Although D&C reporters in Albany had covered the official proceedings, newsroom editors knew the story needed telling from the viewpoint of Black men and women. Doing so proved challenging.
Looking back, Emerging Audiences Editor Cynthia Benjamin ticks off a list of reasons why — "busy," "page views," "is it appropriate?" and most telling, "I don't feel comfortable." Benjamin, who has been in the D&C newsroom for 27 years, said steadfast reluctance to cover the story was "an awakening for Rochester."
On reflection, she said, newsroom leaders realized a major disconnect between the newsroom and a sizable part of its coverage area. About 20,000 Muslims live in Rochester, but there was a void in coverage of Ramadan. Coverage of Latinos was similarly muted. Much of the reporting about Black people revolved around crime and courts.
"We tended to deliver a one-size-fits-all news report," said Executive Editor Michael Kilian. "But it doesn't fit all. It never did." These revelations coincided with D&C participation in Table Stakes, an initiative underwritten by the Knight-Lenfest Local News Transformation Fund and meant to help legacy news organizations with digital transitions. Kilian and Benjamin said they knew going into Table Stakes that they needed to address what lack of diversity in coverage meant to their operation.
The D&C used Table Stakes to question its approach to coverage and engagement concerning communities of color. Along the way, the staff examined fundamental structural flaws in its coverage model and strategies. Measures and strategies promoted by management, and by which reporters were judged, ran counter to the goal of representing the community well.
"We were serving up content of interest to readers who weren't that racially conscious necessarily, and often perpetuating stereotypes because we weren't necessarily that aggressive about other types of stories," Kilian said.
Rochester resident Krystle Ellis, a member of the D&C Digital Advisory Group, recalled that, for years, she had little use for the paper. "It wasn't a publication for Black people," said Ellis, who is director of communications and special events for Ronald McDonald House Charities of Rochester. Rarely, she said, did stories highlight the "greatness and power of the Black community."
Instead, she said, Black people always seemed to be criminalized. "There wasn't much to celebrate."
The D&C's coverage strategy has become a model for Gannett, where other newsrooms are adopting its approaches and tactics. Benjamin recently was part of a company-wide discussion on diverse coverage initiatives.
Fault Lines
Table Stakes introduced the Maynard Institute's concept of Fault Lines, pioneered by the late Robert C. Maynard after the 6.9 magnitude Loma Prieta earthquake in 1989 killed 63 people. Maynard posited that just as geological fault lines rupture and disrupt society, societal ones can fracture communities and heavily influence how people interpret events and information.
The most common societal Fault Lines that have ruptured American society mirror demographic lines of race, gender, geography, generation, class and sexual orientation. In addition to the dominant Fault Lines, physical and mental disabilities, politics and religion are among physical and social identities that can influence how events are viewed.
It's incumbent on journalists to recognize and make sure that their personal Fault Lines don't unduly shape coverage. They should also be mindful of audience and stakeholder Fault Lines during the reporting process. The idea clicked with Kilian and Benjamin who said they absorbed the language of Fault Lines and the concept. The result has been transformative, with community members easily pointing out the change.
"There's better coverage," said Julio Saenz, chief communications and development director of the Ibero American Action League. "Deeper stories, not just the poor Hispanic or the African-American who needs help."
A course correction
The D&C's approach was methodical and deliberate.
Kilian cited early recognition that treading carefully was necessary to ensure buy-in from staff. Discussing race, he said, can prompt defensiveness by white staffers. Newsroom leaders didn't want people to feel as if they were being called out or accused of being racist before they even got started, he said. At the same time, it was important for the D&C to confront its coverage failings.

The newsroom was divided into small groups in which people could discuss diversity, equity and inclusion without becoming defensive, Benjamin said. The groups met for five weeks, each with a different charge addressing how the D&C could improve coverage of people of color:
"Revamping public safety: How does coverage of crime and safety meet the needs and interests of our . . . diverse audiences in ways it doesn't now?"

"Authenticity: How do we develop stories on topics of the highest interest to people of color?"

"Inclusion: How do we adjust our newsroom culture to attract and retain diverse journalists?"

"Newsletters: What types of content that we create now or could create would work in a Spanish-language newsletter or in one focused on jobs and careers?"

"Community partnerships: What potential partnerships in our community might strengthen our bonds with communities of color? What might that look like?"

"Diverse subscriber advisory group (The DAG): How do we find the influencers that can help shape coverage and serve as a test group for how coverage is received?"
The small groups provided an outlet for people to discuss diversity, equity and inclusion without becoming defensive. They also devised a game plan to tackle their respective charge. The result, Benjamin said, was "five weeks of buy-in."
They knew success would require more than meetings and committee recommendations to sustain change. "To keep the spotlight on diversity," Benjamin said, the small groups continued meeting every six to eight weeks, weekly meetings occurred with section editors.
She and Kilian said it was important to be mindful of day-to-day coverage to keep people focused.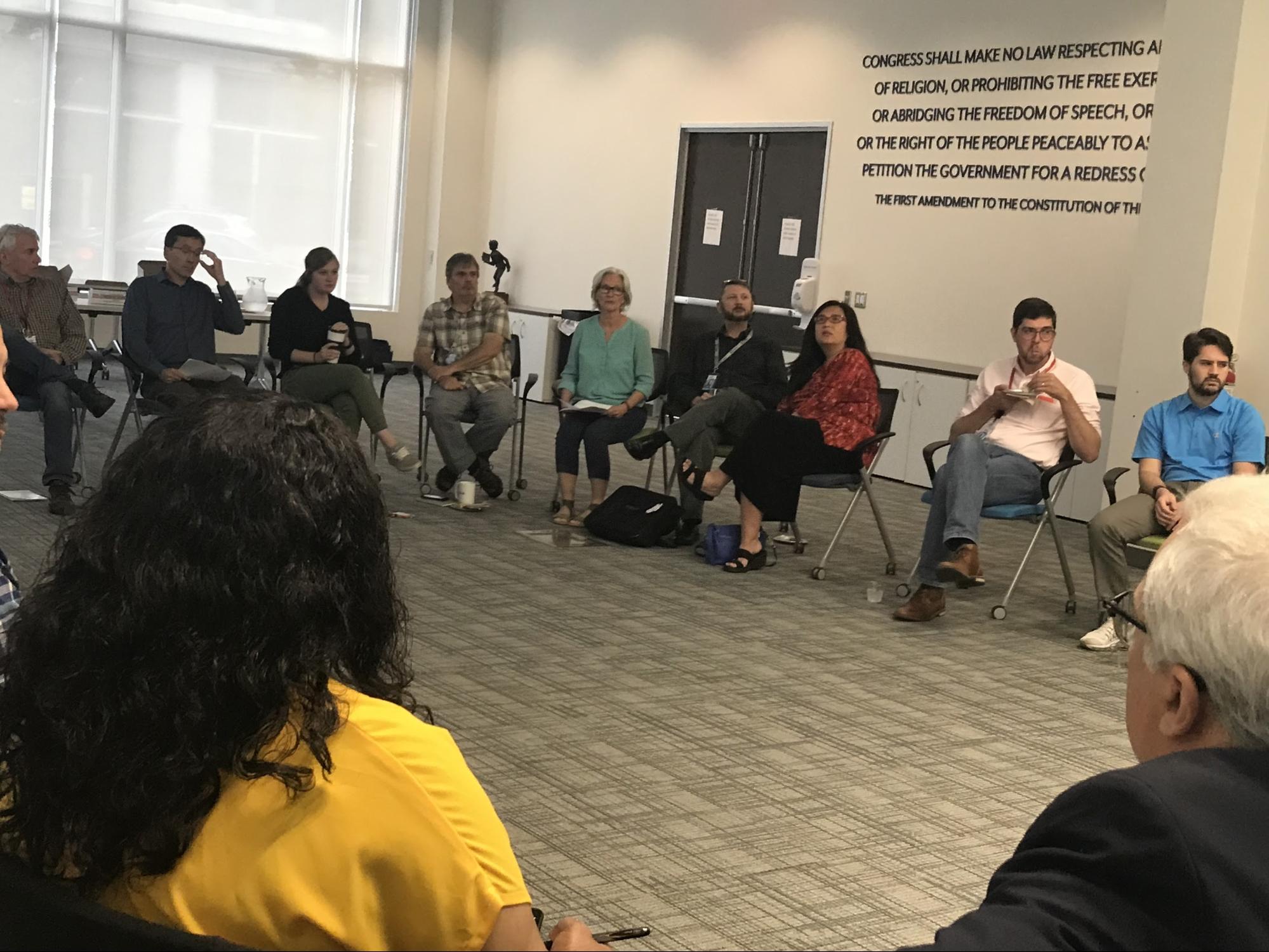 In revamping public safety, the newsroom found itself challenging long-held newsroom norms that have shaped journalism's approach to police coverage.
"There's a law enforcement industrial complex that rolls these press releases and schedules these cases," Kilian said. "We've been covering them from time immemorial without thinking about how that distorts the local community's perception of itself and marginalized communities."
Before the change in strategy, one in five stories, or 20 percent of coverage, was what Kilian called "routine crime coverage" or "suspects and trials coverage." This approach distorted reality.
"There's no way, shape or form that in Rochester . . . or anywhere else, 20 percent of all human activity revolves around crime," he said. "It's just not the case, but if you read our pages everyday, that's really your takeaway."
Over the past year, the D&C has shifted to an enterprise model of public safety coverage that is more solutions-based and includes voices beyond law enforcement. "We stopped responding to every press release," Kilian said.
Also examined was the practice of running mug shots with every story.
"One of the biggest issues was mug shots of Black men on the website," said Kilian, adding that this is an issue with websites nationwide. The D&C upended the practice as it began scrutinizing its police and criminal justice coverage.
In the end, the D&C altered its mug shot policy:
Mug shots are no longer run routinely.

There is discussion and understanding about why it's important when mug shots do accompany coverage.

Mug shots are no longer the main photo on the website or with a story.
In September, Kilian wrote a Sunday column publicly addressing the D&C's shortcomings and pledging to improve. An excerpt:
"We live in an America where roughly half the children of school age or younger in 2019 are kids of color. Monroe County residents live in a county where 3-in-10 residents are non-white (and that percentage among children is substantially higher).
"If these facts surprise you, it is in large part because news outlets including the Democrat and Chronicle have failed to cover communities of color and their lives and achievements consistently or well.
"Let me be clear: D&C journalists can point to specific and insightful and excellent examples of coverage of diverse communities over the years. But the truth is that on any one given day, a local African-American or Asian-American or Hispanic resident is not likely to find their experiences represented on our website or in our newspaper pages."
A Rochester native, Kilian wrote that news media clearly hadn't kept up with how the community has changed.
The area is now 4.5 times more diverse than in 1970, he said, adding, "But you would never know that from looking at the local television, local newspapers.
Some pushback surrounding follow-up coverage on the hair anti-discrimination law stemmed from concern that the story wouldn't generate enough page views. In the past decade, many newsrooms roiled by disruption, including plummeting circulation, began looking to page views as a measure of success. As a result, reporters found themselves measured not about the quality of a story or whether it reflected the mood of a community, but about how many clicks it received. As a result, stories about communities of color are often debated by journalists concerned that these won't generate page views.
As D&C editors began reevaluating coverage and trying to align it with the goal of expanding audience, they quickly recognized the problem with the emphasis on page views.
"It's an artificial conundrum," said Kilian, who has been an editor for 30 years. "It's one more excuse for not going down a path that we kept making excuses not to go down decade after decade after decade."
Looking back, Kilian said the news industry's failure to chart a course correction developing broader audiences sooner has been costly.
"The industry definitely goofed 10-12 years ago. That's when we should have been talking about diversity and inclusion as part and parcel of our survival," Kilian wrote.
He said rather than respond to changing demographics and events such as the election of President Barack Obama, newspapers continued using coverage models established when the nation wasn't as diverse.
Allowing page views to influence coverage decisions created a cycle that reaffirmed itself while promoting stereotypes.
"When it came down to focusing on page views, starting six, eight, 10 years ago, many metro organizations were able to chase the page views of white suburbanites and older white suburbanites by writing about the mishaps of people of color," Kilian said.
Table Stakes requires participants to develop a "performance challenge," a new and transformative project.
Benjamin said as they began reflecting on their existing coverage model they realized: "Over time we began to give more weight to things that resonated with the current audience. But that audience, as we said in our performance challenge, was older and white and dwindling. We couldn't keep writing content for this audience and try and grow an audience we didn't have without changing our content strategy."
Page views involving crime coverage are particularly thorny. "Every cop story you post has a certain amount of guaranteed page views because people click on that stuff," Kilian said. "What's harder is to think about the page views you're not getting because you're emphasizing that coverage, or the page views you could get if you did the smart enterprising story that has more voices and more perspective."
A new strategy and old principles
Moving forward, Kilian said the coverage deficit and reason behind it became clear. "We didn't have and sustain meaningful relationships with sufficient numbers of people of color," he said. "That's why the stories were often so generalized that people of color didn't see themselves in the stories."
Getting out into communities where the D&C lacked a presence was paramount. In its Facebook Journalism Project Community Network grant proposal, the D&C explained:
"Our journalism fails to reflect how multidimensional our community members, and potential audience, are.
"A scientific survey conducted in Monroe County shows fewer than half of black/Hispanic people think local news coverage accurately mirrors what goes on in communities of color. Only 28% of black and 39% of Hispanic respondents think the local news portrays people of color fairly. Most of these community members do not value or trust us."
The grant allowed the D&C to establish a mobile newsroom, a twist to the age-old admonition to get out of the newsroom. This project took 37 staffers into communities of color. The 16-week effort allowed journalists to "listen to what people tell us," Benjamin said.
They found themselves making inroads in communities that had all but given up on the D&C.
Ellis was pleased with the turnaround.
"Finally, we get to see ourselves the way we see ourselves, and in ways we don't see ourselves," she said. "I can tell the paper has changed. A lot of people could tell the paper had changed. They are reporting more stories about people of color, but they are accurate now. They are unbiased."
Ellis said she and her friends "are actually interested in reading" the D&C.
The newsroom targeted nine Rochester ZIP codes that it had traditionally underserved and listened for issues and stories that would resonate with readers. They discovered restaurants in northeast Rochester by talking with people at the mobile newsroom staged there at an early childhood development center.
Food and drink reporter Tracy Schuhmacher found stories previously overlooked. While reporting about The Sweet Potato Pie Place, the city's oldest African American restaurant, Schumacher found just one D&C archives reference to it — in an obituary.
The new approach also sparked stories about illicit drug trade in neighborhoods and brought people into the newsroom. Community organizers at a staff diversity session shared concerns about neighborhoods littered with needles and syringes. These discussions led to a "sprint," a period of focused coverage, by the watchdog team highlighting the community's response to the open-air drug market.
Page views have grown. Kilian said those for diverse content are higher than overall content. "It does show if you do your job like you're supposed to and you're building relationships in communities of color with organizations of color, you can and will succeed," he said.
Crime coverage has been transformed. "We've cut . . . by more than half the amount of crime coverage," he said. "It's down to 8 or 9 percent. I don't know what the right number is, but that sounds a lot better than 20 percent."
At the same time, coverage of diverse audiences has grown from 3 percent to 20 to 25 percent, Kilian said.
Even when staffers were sent home as the novel coronavirus took hold, the D&C didn't lose its stride. Instead, Kilian and Benjamin said that while they would have struggled a year ago, now they merely pivoted.
Coverage has included understanding the role of public transit in a pandemic, especially regarding essential workers; a feature on caring for a medically fragile child amid a pandemic told through Ellis' family; and the racial divide in social distancing.
Content has been translated into Spanish for local radio partners in a new relationship.
"A year ago, we wouldn't have been able to do what we have done because the relationships didn't exist," Kilian said.
Jean Marie Brown is an assistant professor of professional practice at Texas Christian University. She was a senior editor at the Fort Worth Star-Telegram. She was an editor and reporter at The Charlotte Observer and a reporter at the former Post-Tribune in Gary, Indiana, and the Chicago bureau of The Wall Street Journal. She is a senior Fault Lines trainer for the Maynard Institute.