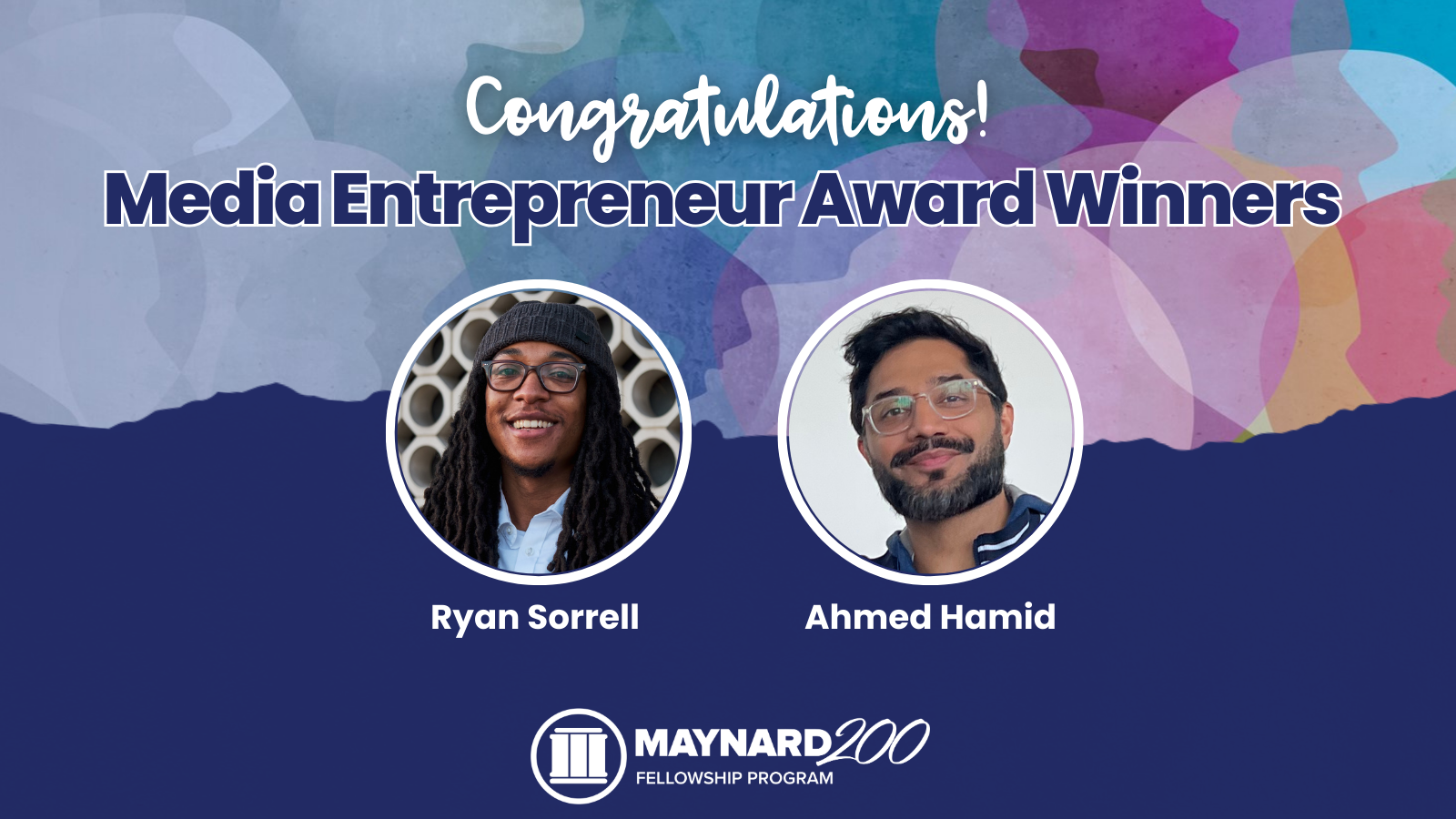 One of the Maynard Institute's core programs, the Maynard 200 Fellowship is designed to advance the careers of investigative storytellers, executive leaders, frontline editors and media entrepreneurs of diverse backgrounds. In 2023, Executive-in-Residence Dickson Louie continued the media entrepreneurship award program originally launched in 2021. Based on the scores from a panel of media business experts, faculty, and Maynard 200 alumni, two fellows, Ryan Sorrell and Ahmed Hamid, have been recognized for their outstanding media venture pitches.
This award program would not be possible without the esteemed panel of judges. Our special thanks go to this year's judges: Nancy Flores, Jon Funabiki, Michelle Garcia, Waylae Gregorie, Ned Hawley, Bruce Koon, Peter Lamb, Cathy Eckstein, Marla Jones-Newman, Professor Michael Sherrod, and Linda Lloyd da Silva.
The Dori J. Maynard Media Entrepreneurship Award
Ryan Sorrell is the recipient of this year's Dori J. Maynard Media Entrepreneurship Award for his start-up, The Kansas City Defender. This award is given to the Fellow with the top overall score from the judges. The award honors the late Dori J. Maynard, the long-time president of the Maynard Institute and the daughter of Robert C. Maynard, our Institute co-founder. The amount of this award, which is funded by Louie each year, is $1,000 and for the operating expenses of the winning start-up.
"From our in-person conversations, to your feedback and guidance, this has been a truly transformative experience that has helped me grow in my confidence and vision," Sorrell said in thanks.
The Quentin Hope Metrics Award
Ahmed Hamid is the recipient of this year's Quentin Hope Metrics Award for his start-up, Refound, which verifies news images in this era of AI. The award honors Quentin Hope, who was instrumental in defining metrics in the News Table Stakes program that Institute co-executive directors, Evelyn Hsu and Martin Reynolds, had participated in. The amount of this award, which is funded by the Institute, is also $1,000.
"The camaraderie in the Maynard 200 cohort was a special part of the learning experience," Hamid said in response to receiving the award. "It has been a special joy to meet the kind hearted and hardworking colleagues and teachers at Maynard. Thank you for guiding us all on this awesome entrepreneurial journey and adventure and for the phenomenal roster of mentors and coaches you curated throughout our learnings."
Get to know the 2023 awardees
About Ryan Sorrell
Ryan is an artist, organizer, digital strategy consultant and media entrepreneur with a diverse background. His career includes consulting for globally-leading brands such as Meta, Samsung, Amazon, Harvard University and Google.
Ryan's commitment to social justice began in Chicago amid the emergence of the Black Lives Matter movement. He learned from, and is inspired by, radical Black queer women in organizations such as The Black Youth Project and Assata's Daughters. He has dedicated his career to creating change - specifically abolition of carceral institutions - through intentional community and world building.
As COVID-19 swept worldwide in 2020, Ryan worked at his corporate job in Chicago. When protests of George Floyd's deaths began in May that year, he moved to Kansas City, Mo., to become a full-time community organizer. With his parents' support, he lived at home and built the city's largest direct action and mutual aid organization as protests swelled.
Frustration with how local news reported the protests and the Floyd racial reckoning led Ryan, with no background or experience in journalism, to found the most influential Black digital news outlet in Missouri and Kansas.
Under his leadership, The Kansas City Defender has broken over 10 national news stories, reached over 50 million people, grown a social media following of over 50,000 across platforms and shifted conversations regarding objectivity and traditional journalistic values in news.
Ryan's commitment to social justice also led him to give public talks at institutions such as University of the Arts London, NPR, PBS and Kansas City Art Institute. He is strongly inspired by the tradition of the Black press and believes it a necessity to philosophically reconceptualize the role and function of news in society.
About Ahmed Hamid
A big fan of the outdoors, Ahmed climbed Mount Kilimanjaro with his brother, a triumph that helped him realize that anything you put your mind to is possible. He is involved in using blockchain and Web 3 to enhance journalism with Refound Journalism, a startup he co­founded.
In December 2022, Refound won first place at the NEAR MetaBuild Ill hackathon. He has cultivated his passion to develop technological means to help creativity flourish and shed light on the urgent need for veracity in reporting. Hailing from Michigan, Ahmed has lived around the world including in the Maldives, Pakistan and China.
His travels from Lake Michigan to the Indian Ocean have exposed him to the tremendous diversity of thought in our world and the fragility of our free speech rights. He is very familiar with challenges and opportunities for progress in helping to keep lines of communication open for true reporting. He hopes to bring toolkits to make that easier for journalists working with Refound.
Read more about all the 2023 Maynard 200 Fellows and check out past blogs featuring award winners from 2022 and 2021.
Why the Maynard 200 Fellowship matters
The Maynard 200 fellowship program advances the Maynard Institute's efforts to expand the diversity pipeline in news media and dismantle structural racism in its newsrooms. It is designed for and serves the next generation of media leaders, storytellers, editors and entrepreneurs, in order to advance their career growth and leadership power in newsrooms and organizations. The professional development program provides customized training courses, resources and 1:1 mentorship by industry professionals, to fellows who have represented a wide spectrum of racial, gender and geographic backgrounds. Maynard 200 has been supported by Craig Newmark Philanthropies, Google News Initiative and The Hearthland Foundation.
Questions?
For more information about the Maynard 200 Fellowship, please reach out to: Maynard 200 Director, Odette Alcazaren-Keeley at okeeley@mije.org.