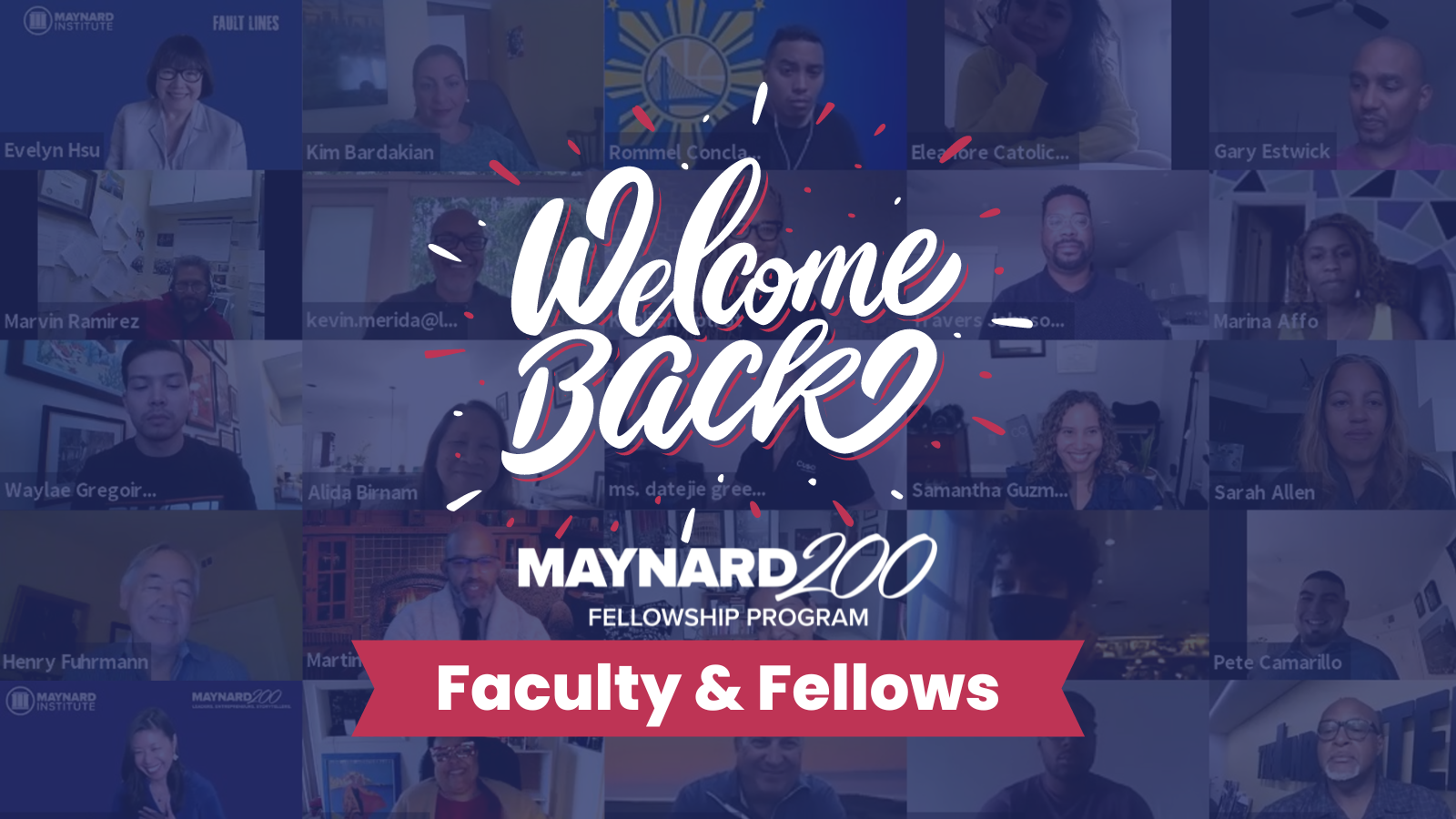 On October 23 the Maynard 200 Fellowship cohort of 2023 will reconvene for the final week of virtual programming presented by industry-leading faculty. The Maynard Institute's cornerstone program, the Maynard 200 Fellowship promotes career growth and supports the future of inclusive and equitable journalism by providing training courses, resources, and mentorship by distinguished media professionals. The program kicked off in person at TCU Bob Schieffer College of Communication in June and will culminate this October after a final week of virtual sessions on professional development topics ranging from effective leadership and negotiation strategies to investigating large corporations and raising entrepreneurial capital.
Customized Curriculum to Span Evolving Media Industry Roles
The Maynard 200 Fellowship operates in four disciplines: Investigative Storytellers, Executive Leaders, Frontline Managers and Editors and Media Entrepreneurs and Product Developers, Executive Leaders, Frontline Managers and Editors and Investigative Storytellers. Each track is led by accomplished industry veterans such as Peabody award-winning journalist Aaron Glantz for investigative storytelling, former newsroom C-suite executive Virgil Smith for the leadership track, and retired senior editor John X. Miller for frontline editors and managers, and media strategist Dickson Louie for media entrepreneurs and product developers. This month's virtual programming is tailored to each discipline with some overlap in areas that benefit multiple tracks.
Session Highlights
Investigative Storytellers will benefit from a career advice session from Ron Nixon, Vice President of News and Head of Investigations, Enterprise, Partnerships and Grants at the Associated Press. In addition, two-time Pulitzer Gold Medalist and International Investigations Editor for the Associated Press Mary Rajkumar will lead a deep dive session on mounting and mannaging a major investigative project. Later, Investigative Storytellers will explore "Investigations that Make an Impact" with two-time Peabody Award-winner and Pulitzer Prize finalist Aaron Glantz, this discipline track's executive-in-residence. Investigative Storytellers will also learn what's involved in Taking on Large Corporations from Ziva Branstetter, senior editor at ProPublica, and Tekendra Parmar, Insider's Tech Features Editor and an alum of the Maynard 200 Fellowship Program.
The Executive Leaders track is led by Virgil Smith, Principal of Smith Edwards Group, LLC and author of The Keys to Effective Leadership. In addition to professional networking and financial management sessions, fellows in the Executive Leaders curriculum track will also learn about "Managing Your LinkedIn Profile" from Senior Contributor to Forbes and Founder of Dream Career Club, Caroline Ceniza-Levine.
Led by executive-in-residence John X. Miller, veteran journalist and former Senior Editor for Sports, Business and Features at The Dallas Morning News, Frontline Managers and Editors will learn about "Getting to the Heart of the Story" from Tom Huang, Assistant Managing Editor for Journalism Initiatives at The Dallas Morning News. Frontline Managers and Editors will also explore the Keys to Effective Leadership in a session led by Virgil Smith before receiving tips for a successful presentation from Tom Nixon. Finally, from John X. Miller, the fellows will receive Hands on Editing and Management Coaching.
The Media Entrepreneurs and Product Developers track is led by track executive-in-residence Dickson Louie, principal of a Bay Area consultancy providing strategic planning, competitive analysis and executive development services. Session highlights include "Polishing a Pitch" from presentation designer and coach Tom Nixon, "Writing a Grant" from Jill M. Kunishima and "Raising Entrepreneurial Capital with Term Sheets" from Professor Michael Sherrod, the William M. Dickey Entrepreneur in Residence at TCU's Neeley School of Business. Each entreprenuer and product developer will also participate in a Shark Tank-like session, pitching their proposals to a panel of judges.
Some plenary sessions benefiting all tracks include discussions on "Listening to Your Authentic Voice" with Tonya Mosley of NPR's Fresh Air and founder and host of podcast Truth Be Told, and Ayesha Rascoe, host of NPR's Weekend Edition Sunday, as well as "Leveraging Your Strenghts and Seizing Opportunities in a Time of Transition, Innovation and Upheaval" with Jean Marie Brown, associate professor of professional practice in the Department of Journalism at TCU Bob Schieffer College of Communication.
Cross-functional Teams Tackle the Business Case Challenge
The business case study provides Maynard 200 Fellows with a unique opportunity to learn real-world application of evolving best practices in the industry. Participating fellows are briefed on challenges facing a present-day media organization. Team work will focus on market research and the development of proposed solutions to create a presentation to share with the news organization's leadership at the October Maynard 200 gathering.
When first announced last year, the project was a case study of the Los Angeles Times business strategy and culminated in fellows presenting their findings and recommendations to LA Times executives. This year, the Business Case Study Challenge has expanded to include partners Mother Jones and the Dallas Morning News.
Mentorship that Makes a Difference
We often refer to the extended network of our program alumni as the Maynard Family. One of the main benefits of the Maynard 200 Fellowship program is access to Maynard Family mentors in the industry. The Maynard 200 Fellowship program's unique one-on-one mentorship component continues well into 2024. After the formal training curriculum concludes in October 2023, Maynard 200 fellows are paired with a veteran media professional or issue expert who has committed to mentoring the fellow for a full year. Successful fellows meet with their assigned mentors at least once per month for conversational consults as schedules permit.
More about the Maynard 200 Fellowship
The Maynard 200 fellowship program advances the Maynard Institute's efforts to expand the diversity pipeline in news media and dismantle structural racism in its newsrooms. It is designed for and serves the next generation of media leaders, storytellers, editors and entrepreneurs, in order to advance their career growth and leadership power in newsrooms and organizations. The professional development program provides customized training courses, resources and 1:1 mentorship by industry professionals, to fellows who have represented a wide spectrum of racial, gender and geographic backgrounds. Maynard 200 has been supported by Craig Newmark Philanthropies, Google News Initiative and The Hearthland Foundation.
Questions?
For more information about the Maynard 200 Fellowship, please reach out to: Maynard 200 Director, Odette Alcazaren-Keeley at okeeley@mije.org.