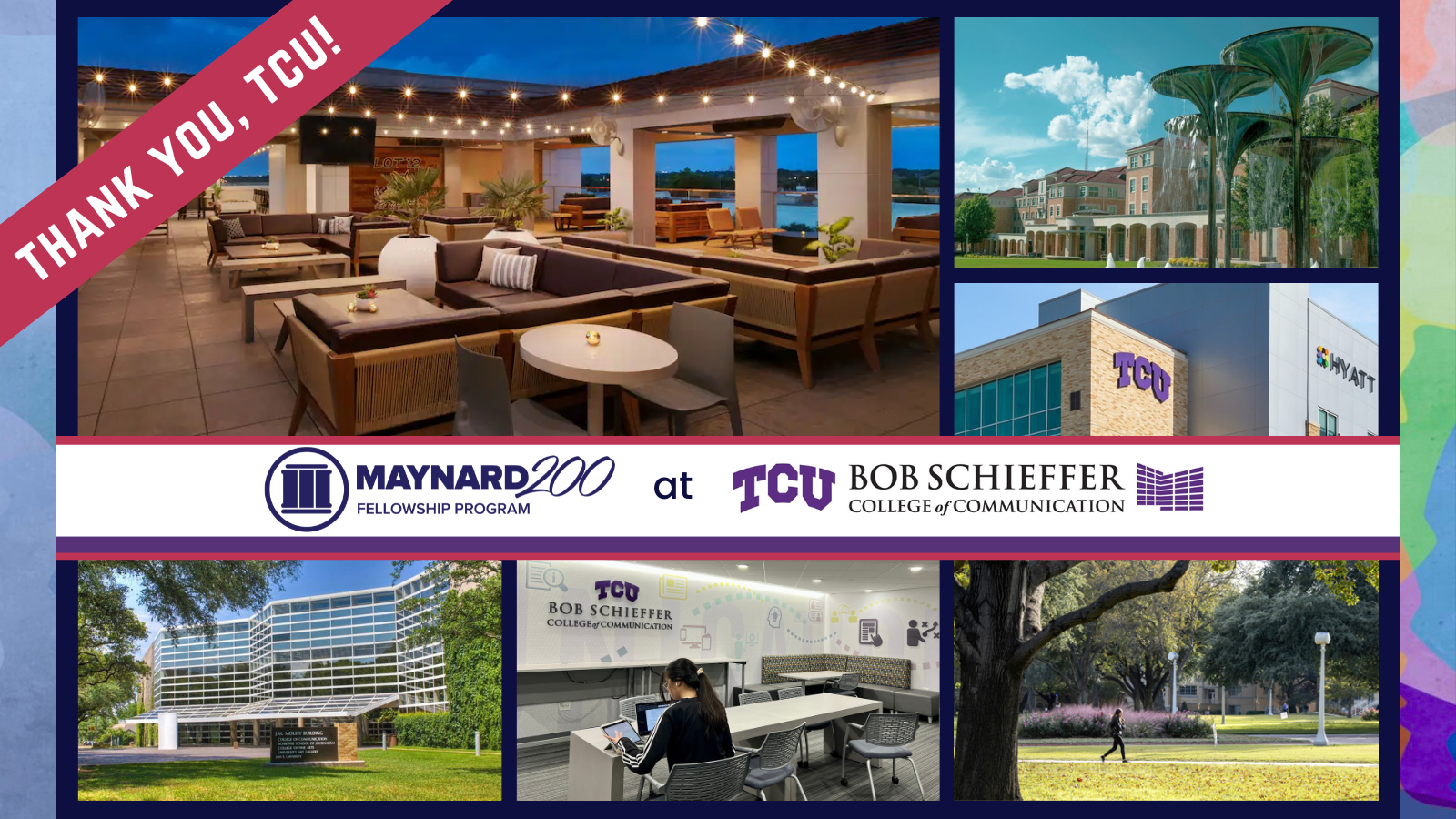 The 2023 Maynard 200 Fellowship launches on June 26 at the program's university partner, the Bob Schieffer College of Communication at Texas Christian University (TCU) in Fort Worth, Texas. Forty-five faculty members will lead over 60 engaging training sessions on professional development topics ranging from investigative story-pitching, hands-on editing, media disruption and product strategies to financial leadership, talent recruitment and techniques for building resilience while reporting on traumatic events. With this new class of 49 fellows, the Maynard Institute is on course to surpass its goal of cultivating 200 media leaders dedicated to advancing diversity, equity, inclusion and belonging in journalism, in 2024.
Partners in the Lone Star State at TCU
This year's program is made possible thanks to the generous partnership of Bob Schieffer College of Communication at TCU. The reception on Monday, June 26 will include a welcome address by Chair of the Journalism Department, Dr. Uche Onyebadi. The first full training day on Tuesday, June 27, will kick off with opening remarks by the Dean of TCU's Bob Schieffer College of Communication, Dr. Kristie Bunton.
Long-standing TCU faculty member, Associate Professor of Professional Practice and Director of Student Media Journalism, Jean Marie Brown has also been instrumental in welcoming the Maynard 200 Fellowship. Brown is an expert in the Maynard Institute's Fault Lines® training methodology that promotes diversity, equity and inclusion (DEI) in newsrooms. Under Brown's tutelage, the Fault Lines® methodology has also been applied to in-depth community reporting by students at TCU 360, the official, student-produced journalism of the Journalism Department in the Bob Schieffer College of Communication.
"Hosting the Maynard 200 professional development training program further demonstrates our profound commitment toward upholding the principles of diversity, equity and inclusion," said Dr. Uche Onyebadi, Chair of the Journalism Department.
"As a core value in our college, all of us in the journalism department strive to instill these principles in our students in and outside of classrooms. We believe that this program will reinforce the centrality of DEI in modern journalism practice and hope that all participants will use what they have learned to enhance the quality of their work in furtherance of the growth and relevance of the profession in our society."
In addition to providing training session facility space, TCU is hosting both the welcome reception and a happy hour mixer at Lot 12, the rooftop bar of the Hyatt Place - TCU hotel. One of the lasting benefits of the Maynard 200 Fellowship is connecting with a network of journalists of colors and their allies. This community of peers and mentors can serve fellows throughout their careers.
Business case study project partners Mother Jones and Dallas Morning News
Last year, the Maynard 200 Fellowship piloted a new team project across multiple tracks under the direction of Executive-in-Residence, Dickson Louie. The project was a case study of the Los Angeles Times business strategy and culminated in fellows presenting their findings and recommendations to executives at the Los Angeles Times. The Maynard Institute is thrilled to announce that in 2023, the business case study challenge has expanded to include partners Mother Jones and the Dallas Morning News.
The business case study provides Maynard 200 Fellows with a unique opportunity to learn real-world application of evolving best practices in the industry. Participating fellows are briefed on challenges facing a present-day media organization. Team work will focus on market research and the development of proposed solutions to create a presentation to share with the news organization's leadership at the October Maynard 200 gathering.
Meet the 2023 Maynard 200 Faculty
The Maynard 200 program is grateful to all members of the 2023 faculty and mentors. Each track is led by accomplished industry veterans such as Peabody award-winning journalist Aaron Glantz for investigative storytelling, former newsroom C-suite executive Virgil Smith for the leadership track, and retired senior editor John X. Miller for frontline editors and managers, and media strategist Dickson Louie for media entrepreneurs and product developers.
The full list of 2023 Maynard 200 faculty (alphabetized by first name) includes:
A.C. Thompson, Senior Reporter with ProPublica, Correspondent for FRONTLINE
Aaron Glantz, Bureau Chief & Senior Editor, The Fuller Project
Adriana Lacy, Founder, CEO, Adriana Lacy Consulting
Amy Chen, VP Content, GGV Capital
Andy Alford, Director of Editorial Recruitment, Training and Career Development, The Texas Tribune
April Armstrong, Research Manager, The Seattle Times
Caroline Ceniza-Levine, Founder, Dream Career Club
Cathy Eckstein, CEO of Cornerstone CMO, Co-founder, General Partner at Sonoran Founders Fund
Darren Johnson, Organizational Development Consultant / Author
Dickson Louie, Principal of Dickson Louie & Associates / Lecturer at Graduate School of Management, UC Davis
Dorothy Bland, Media Management Consultant, DMB Consultants
Ernesto Aguilar, Director of Programming, Radio, KQED
Evelyn Hsu, Co-Executive Director, Maynard Institute
Hilda Polanco, Market Managing Partner, BDO
James Nixon, President, NIXON Interests
Jean Marie Brown, Associate Prof. of Professional Practice, Bob Schieffer College of Communication at TCU
Jill Van Why, Sr. Vice President-Programming Operations, FOX News Media
John X. Miller, Former Senior Editor, Dallas Morning News
Kari Cobham, Director of Fellowships, The 19th
Kati Erwert, Senior Vice President of Product, Marketing and Public Service, The Seattle Times
Katrice Hardy, Executive Editor, The Dallas Morning News
Kristie Bunton, Dean and Professor of Journalism, Bob Schieffer College of Communication at TCU
Laura Janelle Downey, Executive Editor, WebMD
Leezel Tanglao, Senior Digital Director, The Dallas Morning News
Linda Lloyd da Silva, Brand, Marketing & Communications Strategist
Lorena Flores, Senior Community Audience Strategist, The Dallas Morning News
Manny García, Executive Editor, Austin American-Statesman
Manuel McDonnell Smith, Senior Editorial Manager Yahoo!
Maria Carrillo, Consultant and Coach, Carrillo & Associates
Marisa Porto, Distinguished Professor and Knight Chair in Local News and Sustainability University of North Carolina - Chapel Hill
Mark Walker, Investigative Reporter, The New York Times
Marla Jones-Newman, VP, People & Culture, Mother Jones
Martin G. Reynolds, Co-Executive Director, Maynard Institute
Michael Sherrod, William M. Dickey Entrepreneur in Residence, Neeley School of Business at TCU
Monika Bauerlein, CEO, MOTHER JONES
Monique O. Madan, National Investigative Reporter, USA TODAY
Odette Alcazaren-Keeley, Director Maynard 200, Maynard Institute
Rebecca Aguilar, Freelance Reporter and Founder, Latinas in Journalism
Sandra Clark, CEO, StoryCorps
Shaneen Quarles, Media Personality and Entrepreneur, Shaneenspeaks
Tom Huang, Assistant Managing Editor, The Dallas Morning News
Tom Nixon, Presentation Designer & Coach, Tom Nixon Design
Travers Johnson, Founder & CEO, Queerency
Uche Onyebadi, Chair of Journalism and Professor, Bob Schieffer College of Communication at TCU
Virgil Smith, Principal, Smith Edwards Groups LLC
To learn more about the Maynard 200 Faculty, read their bios (PDF)
Learn more about the Maynard 200 Faculty and Partners of 2023
Interested in learning more this year's faculty? Get to know the 45 media leaders joining the fellowship in 2023.
About the Maynard 200 Fellowship
Maynard 200 is the cornerstone fellowship program advancing the Maynard Institute's efforts to expand the diversity pipeline in news media and dismantle structural racism in its newsrooms. It is designed for and serves the next generation of media leaders, storytellers, editors and entrepreneurs, in order to advance their career growth and leadership power in newsrooms and organizations. The professional development program provides customized training courses, resources and 1:1 mentorship by industry professionals, to fellows who have represented a wide spectrum of racial, gender and geographic backgrounds. Maynard 200 has been supported by Craig Newmark Philanthropies, Google News Initiative and The Hearthland Foundation.
Questions?
For more information about the Maynard 200 Fellowship, please reach out to: Maynard 200 Director, Odette Alcazaren-Keeley at okeeley@mije.org.