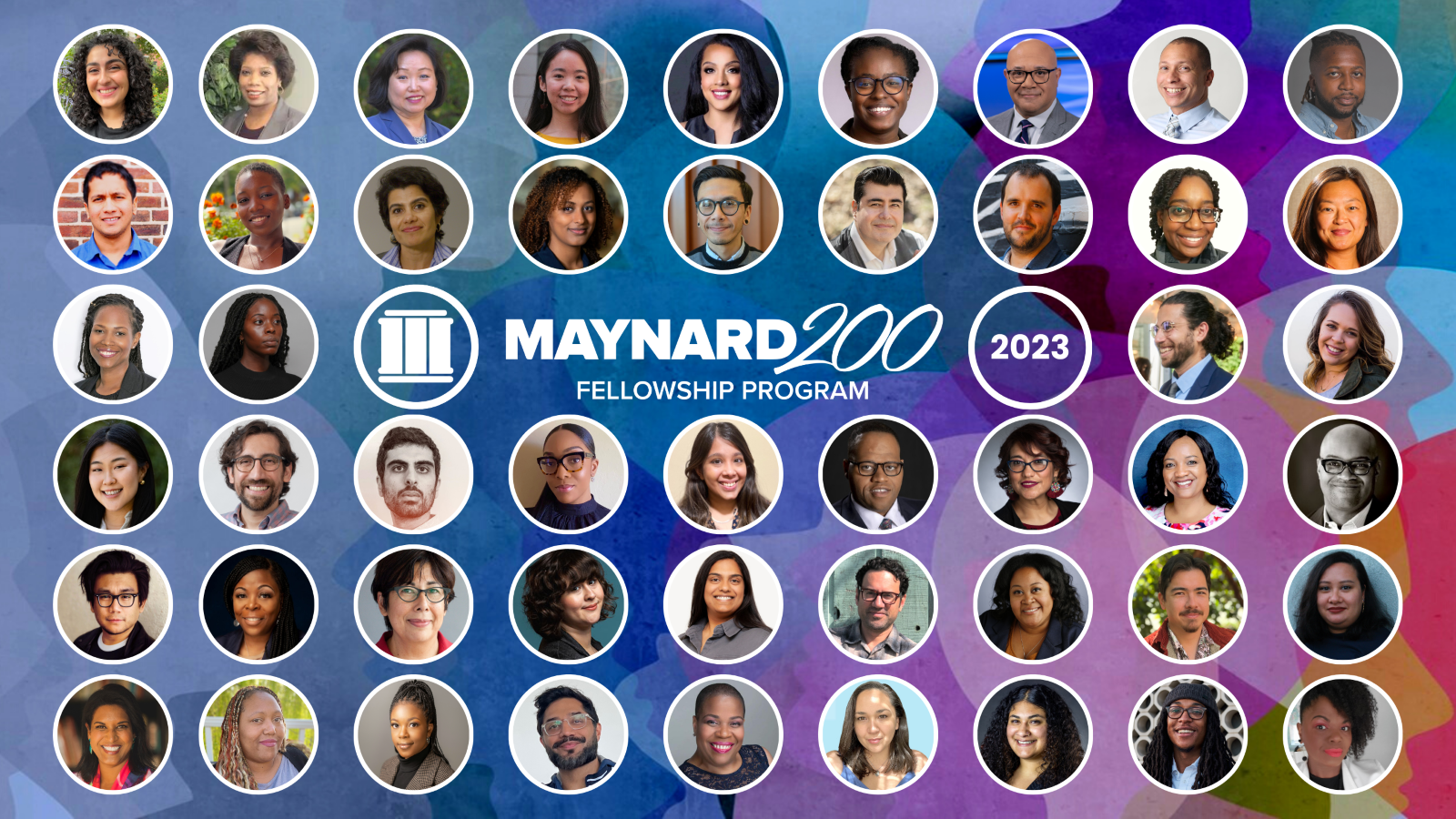 OAKLAND, CA (June 1, 2023): The Robert C. Maynard Institute for Journalism Education, a nonprofit dedicated to expanding diversity in the news media and dismantling structural racism in newsrooms, announced today the recipients of its 2023 Maynard 200 Fellowship. Since the program's inception in 2018, more than 140 storytellers, editors, managers, leaders, and media entrepreneurs of diverse backgrounds have been trained and mentored. With its latest class of 49 fellows, the Maynard Institute is on course to surpass its goal of cultivating 200 media leaders dedicated to advancing diversity, equity, inclusion and belonging in journalism, in 2024.
The 2023 in-person program will open June 26th, hosted by the program's university partner this year, the Bob Schieffer College of Communication at Texas Christian University (TCU) in Fort Worth, Texas.
A second week of training will be held virtually from October 23-27, when fellows will be paired with industry veterans and experts for ongoing, one-to-one mentorship.
"This year's Maynard 200 fellows join a community of journalists who have ascended into executive-level roles; received awards for coverage; led diversity initiatives that have shifted newsroom cultures; and launched innovative entrepreneurial ventures, many of which bolster local journalism," said Odette Alcazaren-Keeley, Maynard 200 Director.
"We welcome another impressive class of 49 media leaders, representing diverse gender, geographic, racial and ethnic backgrounds; and are affiliated with legacy, ethnic, community-powered media and emergent ventures. They join the community of peers that we build every year, propelling a mini-movement to dismantle systemic inequity in American media. Our fellows contribute to a program that an industry ally has referred to as one of the most powerful incubators for journalists of color." Alcazaren-Keeley added.
"Our graduates are reshaping American journalism," said Maynard Institute co-executive director Evelyn Hsu. "This program is part of the Maynard Institute's long record of service to a craft that is critical to the health of a functioning democracy."
The 2023 Maynard 200 cohort includes: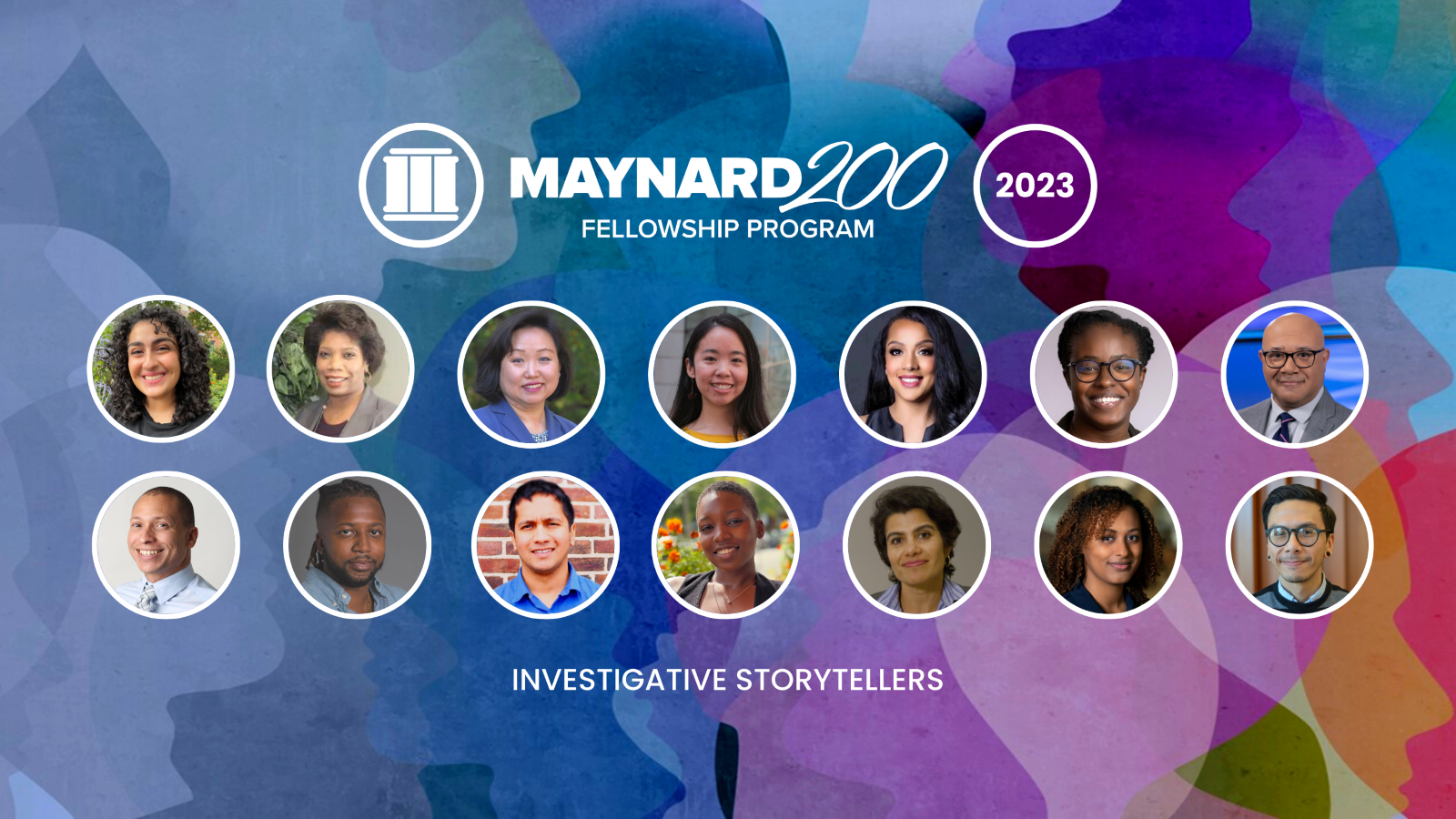 Investigative Storytellers
Natalia Alamdari - Seacrest Greater Nebraska Reporter, Flatwater Free Press
Dorine Bethea - Multiplatform Editor, The Washington Post / Journalism Educator, Howard University
Janet Cho - Reporter, Barron's
Sheila Dang - Media and Advertising Reporter, Reuters
Angela Dennis - Race, Equity, Social Justice Reporter, USA Today Network- Knoxville News Sentinel
Rachel Hinton - Enterprise Reporter, Illinois Answers Project
Troy Johnson - News Anchor, 16 WAPT News - Hearst Television
Michael Lyle - Reporter, Nevada Current (States Newsroom)
Josh McGhee - Reporter, Mindsite News
Jaisal Noor - Independent Journalist/Democracy Cohort Manager, Solutions Journalism Network
Kaila Philo - Investigative Reporter, previously for Talking Points Memo
Farida Jhabvala Romero - Labor Correspondent, KQED Public Radio
Helina Selemon -Science Reporter, The Blacklight, New York Amsterdam News
Kristoffer Tigue - Reporter, Inside Climate News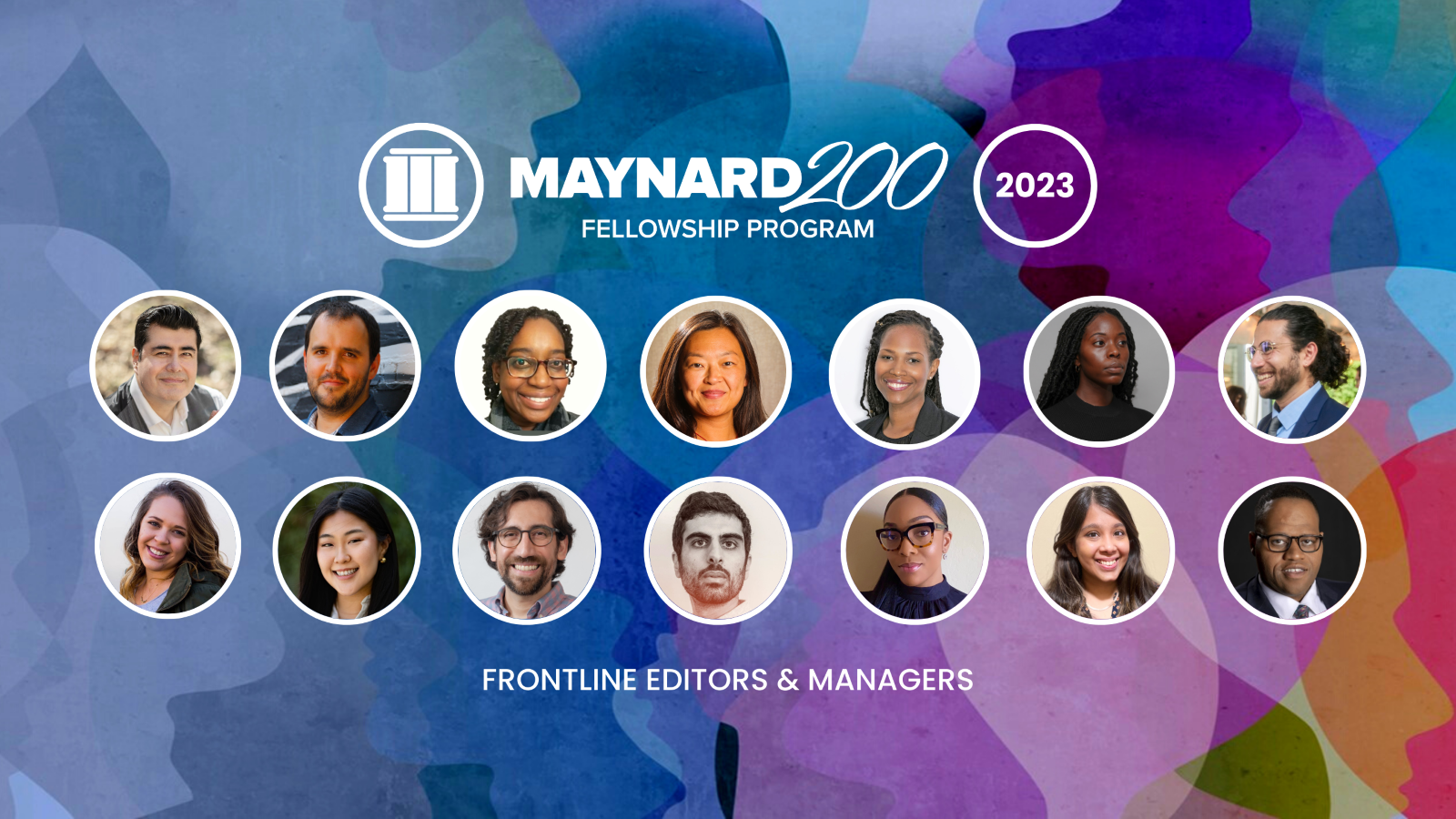 Frontline Editors and Managers
Diego Barahona - Digital Editor, La Noticia
Scott Bell - Breaking News Editor, Dallas Morning News
April Bethea - Deputy Education Editor, The Washington Post
Momo Chang - Co-Director, Oakland Voices
Melinda Coleau - Planning Manager, NBC4/T44, NBC Universal WRC / NBC4
Nia Decaille - SEO Editor, The New York Times
Karim Doumar - Deputy Editor, Newsletters, Los Angeles Times
Christine Hendricks - VP, Marketing, Local Media Consortium
Yihyun Jeong - Deputy Metro Editor, The Seattle Times
Alejandro Martinez-Cabrera - Education and Urban Affairs Editor, The Texas Tribune
Daniel Moattar - Articles Editor, Mother Jones
Angelica Obioha - Managing Editor, The Sacramento Observer
Rheaa Rao - Markets Editor, Bloomberg
Walter Smith Randolph - Investigative Editor, Connecticut Public Broadcasting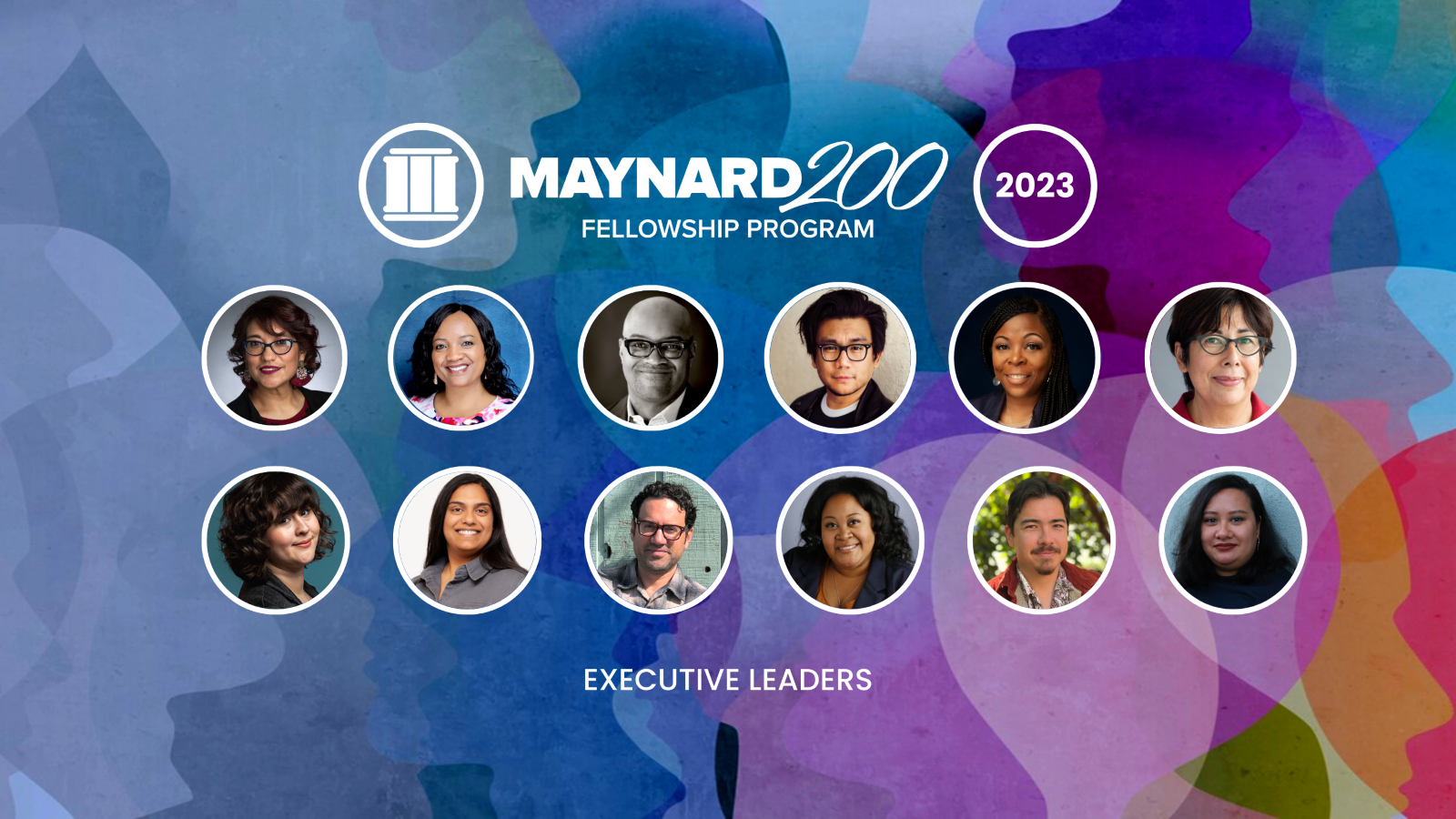 Executive Leaders
Eva-Marie Ayala - Education Lab Editor, The Dallas Morning News
Cynthia Benjamin - Senior Director/News Learning & Development, Gannett-USA Today Network
Khary Brown - Vice President Media Sales, Mother Jones
Tercius Tarcisius Serrano Bufete - Executive Editor, USA Today - Reviewed
Rachel James-Terry - Director of Public Relations, Jackson State University
Nina Martin - Features Editor/Reporter, Center for Investigative Reporting
Nicole Ortiz - Freelance Editor/ Former Sr. Story Editor, Adweek
Megha Satyanarayana - Chief Opinion Editor, Scientific American
Jacob Simas - Managing Editor, The Oaklandside (Cityside Journalism Initiative)
Ashley M. Slayton - Audience Development Editor, The Dallas Morning News
Matthew Tinoco - Publisher, Los Angeles Public Press
Michelle Zenarosa - Deputy Editor, Reckon Media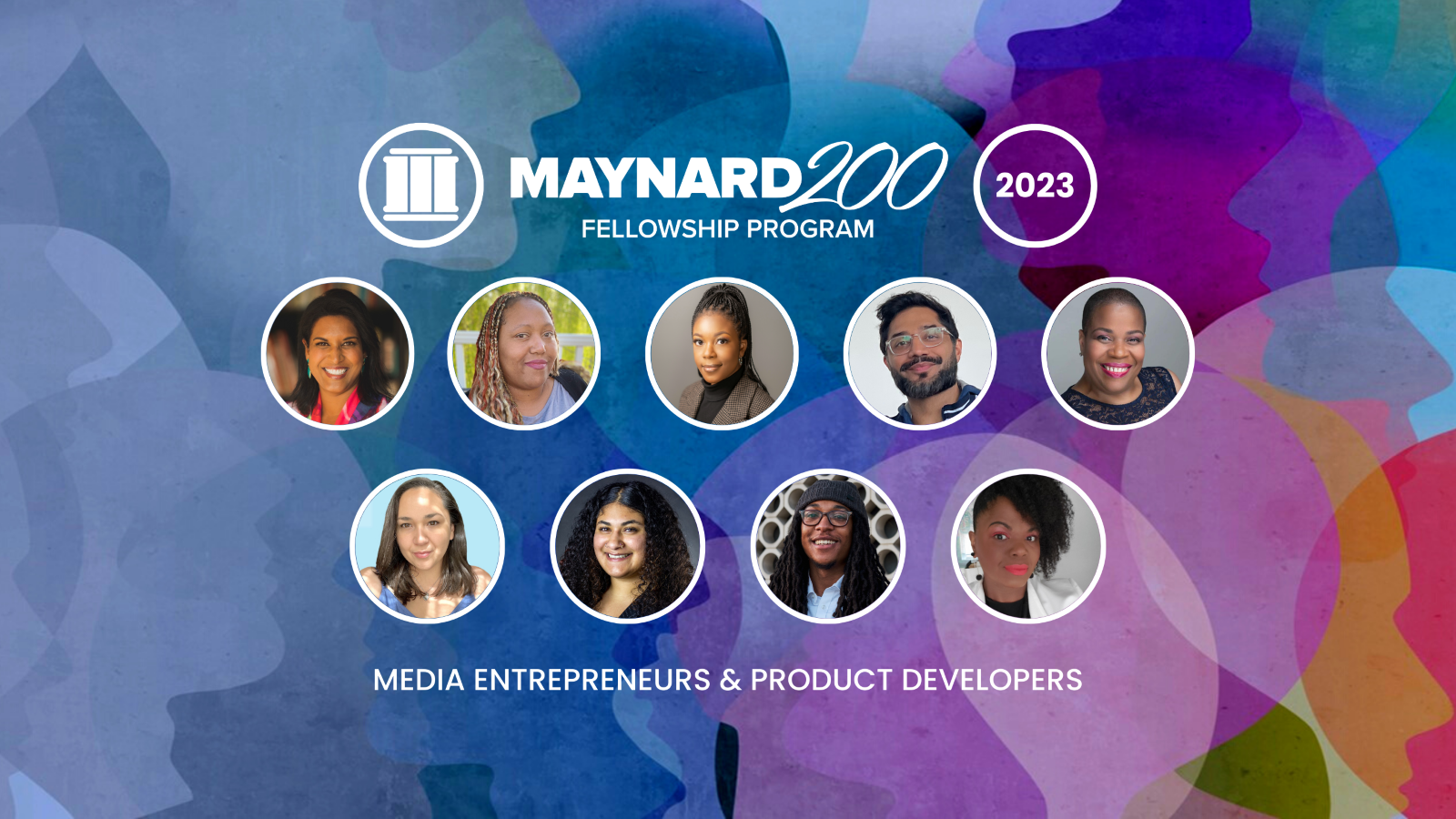 Media Entrepreneurs and Product Developers
Priya David Clemens - Founder, Bridge Media Company / News Anchor, KQED Public TV
Brandy Collins - Freelance Writer & Alumna, Oakland Voices/ Consultant
Jazmin Goodwin - Founder and CEO at Stealth Startup
Ahmed Hamid - Co-Founder, Refound Journalism
Caron LeNoir - Founder & Executive Producer, CARONISMedia Group
Alicia Ramirez - Founder/ Publisher, The Riverside Record
Karina Ramos Villalobos - Founder, Mundo De Scorpio/ Multimedia Journalist, Redwood News
Ryan Sorrel - Founder & Executive Editor, The Kansas City Defender
Wendy Todd - Founder, Carbon Media Ventures. LLC/ PR Writer, University of Missouri–St. Louis
Read the bios for the 2023 Maynard 200 Fellows(PDF)
Maynard 200 has been supported by Craig Newmark Philanthropies, Google News Initiative and The Hearthland Foundation.
Learn more about the Maynard 200 Fellows of 2023
Interested in learning more this year's fellows? Get to know the 49 media leaders joining the fellowship in 2023.
About the Maynard Institute
For more than 45 years, the Maynard Institute has fought to push back against the systemic lack of diversity in the news industry through training, collaborations and convenings. Founded by Robert C. Maynard, the Institute promotes diversity and antiracism in the news media through improved coverage, hiring and business practices. We are creating better representation in America's newsrooms through our Maynard 200 fellowship program, which gives media professionals of color the tools to become skilled storytellers, empowered executives and inspired entrepreneurs.
About the Maynard 200 Fellowship
Maynard 200 is the cornerstone fellowship program advancing the Maynard Institute's efforts to expand the diversity pipeline in news media and dismantle structural racism in its newsrooms. It is designed for and serves the next generation of media leaders, storytellers, editors and entrepreneurs, in order to advance their career growth and leadership power in newsrooms and organizations. The professional development program provides customized training courses, resources and 1:1 mentorship by industry professionals, to fellows who have represented a wide spectrum of racial, gender and geographic backgrounds.
Visit PR Newswire press release.
Questions?
For more information about the Maynard 200 Fellowship, please reach out to: Maynard 200 Director, Odette Alcazaren-Keeley at okeeley@mije.org.