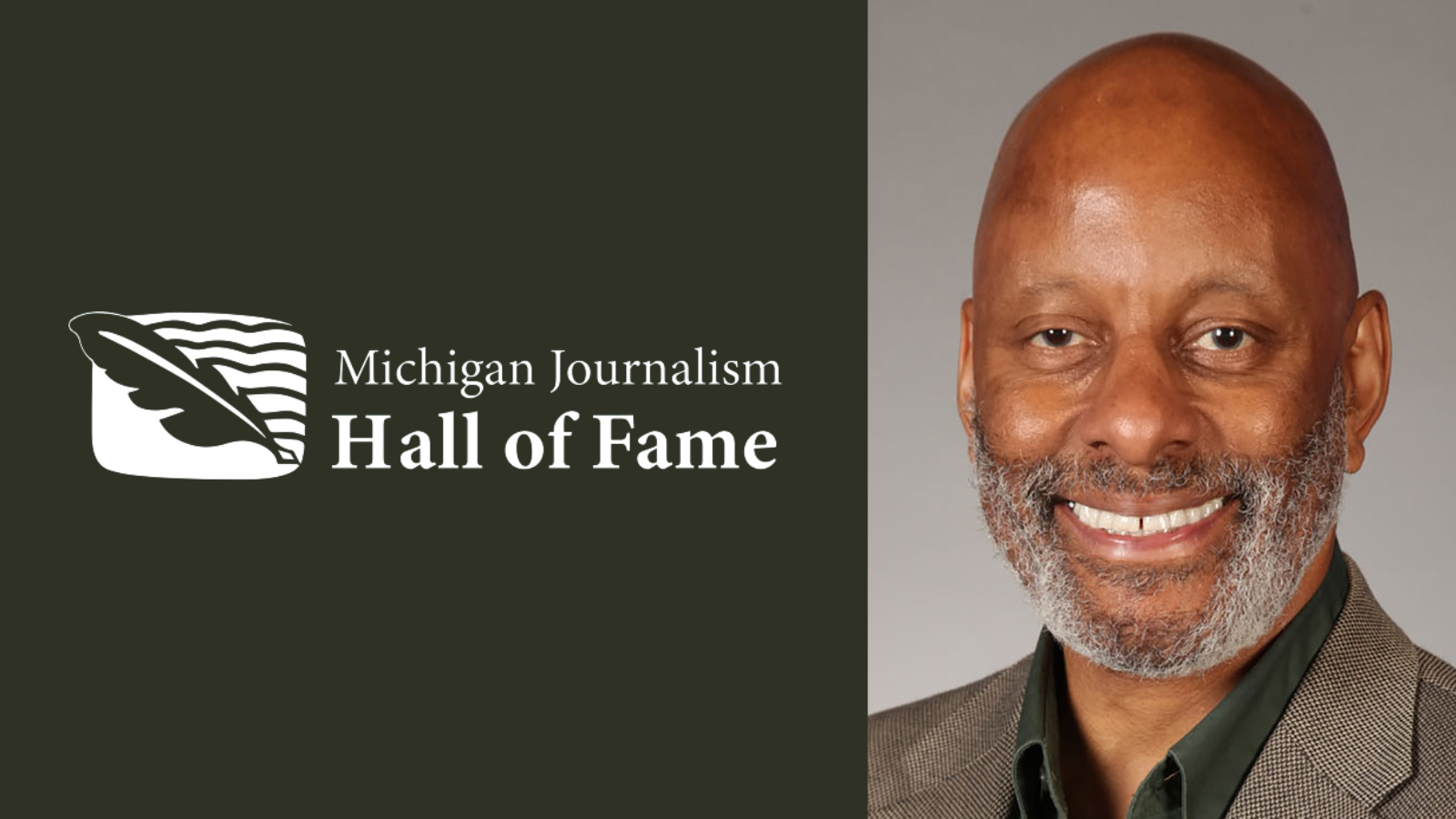 On April 23, former Detroit News assistant managing editor and Maynard Institute instructor Walter T. Middlebrook Jr. was inducted into the Michigan Journalism Hall of Fame.
Middlebrook's long-spanning journalism career includes roles at the Minneapolis Star, the St. Paul Pioneer Press and Dispatch, New York Newsday, The New York Times, USA Today and two stints at The Detroit News. He is currently the Foster Professor of Practice at Penn State University's Donald P. Bellisario College of Communications.
At the ceremony, Middlebrook — a 1982 graduate of the Maynard Institute's Editing Program for Minority Journalists — was lauded for his role in helping to make newsrooms more diverse. After graduating from the editing program, he assisted the Institute for several years as an instructor.
In addition to Middlebrook's work with the Maynard Institute, he was a former president of the Detroit chapter of the Society for Professional Journalists and a regional director of the National Association of Black Journalists. Middlebrook is a longtime board member of the Detroit-based Rosa Parks Scholarship Foundation, an organization that provides scholarships to deserving students who may be unable to afford college otherwise.
In a short biography prepared ahead of the Hall of Fame ceremony, Michigan State University journalism professor Joe Grimm wrote, "Middlebrook has been a champion of diversity with national recognition for identifying, recruiting and developing journalists, particularly people of color, women and others from populations historically underrepresented in newsrooms."
From 2007-2009, Middlebrook served as The Detroit News' director of recruiting and community affairs. From 2009-2018, he served as assistant managing editor. Previously, he worked at Newsday, where, among other roles, he was director of Times Mirror Corp.'s Metpro/Editing program that trained minority editing candidates.
Martin G. Reynolds, co-executive director of the Maynard Institute, said he was thrilled to see Middlebrook receive such a high honor. "Walter Middlebook embodies so much of what the Maynard Institute stands for," Reynolds said. "He's a true champion for diversity and cares deeply about the craft of journalism. We couldn't be more proud to see a Maynard alumni and former trainer receive this well-deserved award."
Maynard Institute's cultural competency director Felecia D. Henderson met Middlebrook in 1987 when he was an editor at The Detroit News and she was a fellow in the Editing Program for Minority Journalists at the University of Arizona. "To call my instructor 'colleague' was a huge blessing when Walter returned to The Detroit News," says Henderson, a former assistant managing editor at the newspaper. "His leadership was invaluable to the organization during a period of considerable change. Fast-forward a decade, as a member of the Michigan Journalism Hall of Fame committee, it was an honor to support Walter's induction and ensure his journalistic legacy will be lasting."
Being inducted into the Michigan Journalism Hall of Fame is the latest honor in Middlebrook's career. In 2018, he was given a Lifetime Achievement Award by the Detroit Chapter of the Society of Professional Journalists. In 2015, he was recognized with a College of Communication Distinguished Alumni Award from Boston University in 2015. And in 2010, he received the Spirit of Diversity Award from Wayne State University.
More about Maynard Institute Programs
Maynard Institute professional development programs have the goal of fueling the pipeline of journalists of color into the newsrooms of America. One of the Maynard Institute's core programs, the Maynard 200 Fellowship provides advanced training and mentorship to mid-career journalists of color for promoting their career growth and expanded leadership roles.