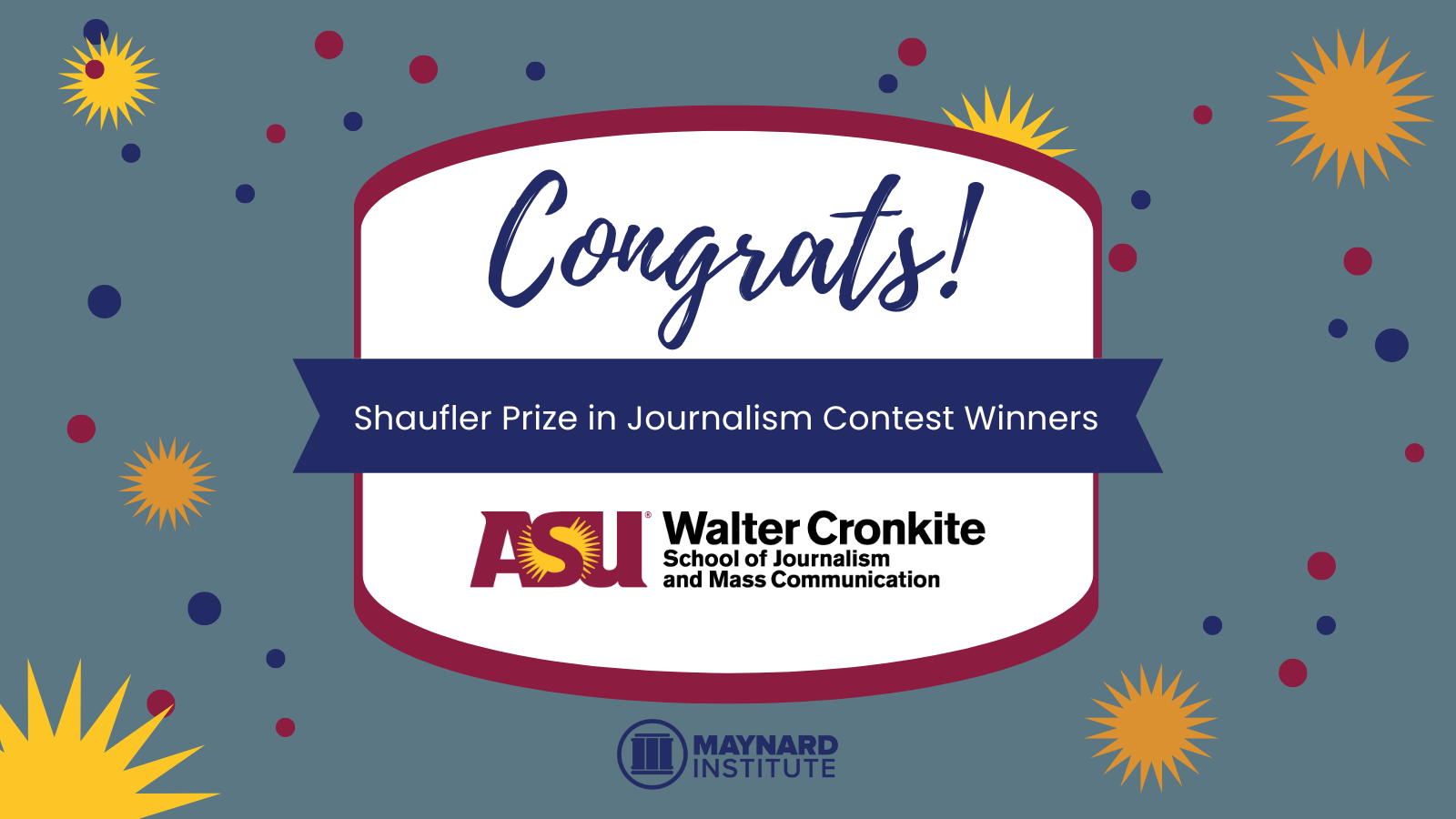 The Maynard Institute joins Arizona State University's Walter Cronkite School of Journalism and Mass Communication in congratulating the latest winners of the Shaufler Prize in Journalism. Momo Chang, the Maynard Institute's Oakland Voices Co-Director, participated on the panel of judges. Winners in the professional and student categories will be recognized on March 23 during an awards ceremony at the Cronkite School. The event will also be streamed as a Cronkite Live special event via YouTube.
Congratulations Winners
The top prize in the 2022 Shaufler Prize in Journalism professional category has been awarded to Aydali Campa of Inside Climate News for the three-part series titled "The Superfund Site Next Door: Toxins and Mistrust in Atlanta." Second place in the professional category was awarded to writer Jamie Smith Hopkins of the Center for Public Integrity, and a podcast team with Transmitter Media for "The Wealth Vortex," a longform story and an accompanying five-episode podcast. The data based investigation from the Center for Public Integrity titled "Cheated at Work" received third place.
The top prize in the student journalism category went to "Mega Billions: The Great Lottery Wealth Transfer," produced by the Howard Center for Investigative Journalism at the University of Maryland.
An honorable mention designation was awarded to the New York Times for "Overlooked No More," a series of obituaries about remarkable people from underrepresented communities whose lives and deaths previously went uncovered by the Times.
About the Shaufler Prize
The Shaufler Prize was established by Paul B. Anderson, the principal & CEO of Workhouse Media in Seattle, Washington to honor his late friend, Ed Shaufler, who died in late 2020. Shaufler cared deeply about promoting understanding of underrepresented people. The prize recognizes America's best journalism advancing the understanding of stories and issues related to underserved people in society, such as communities of color, immigrants and LGBTQ+. Cash awards range from $2,000 to $10,000 across two categories of student journalism and professional media.
Entries were judged by journalism professionals and educators. Judges for the 2022 Shaufler Prize:
Momo Chang
Marie Dillion
Adrianne Flynn
Kristin Gilger
Nora Lopez
Evelyn Larrubia
Nikki McClaran
Toluse Olorunnipa
Jeffrey Timmermans
Judges considered how well the submissions provided in-depth coverage of issues affecting communities of color, immigrants or LGBTQ+. Winning submissions went beyond the ordinary in conveying the challenges experienced by underserved communities. Read more about the award eligbility and criteria on the Cronkite School website.
About the Maynard Institute for Journalism Education
For 45 years, the Maynard Institute has fought to push back against the systemic lack of diversity in the news industry through training, collaborations and convenings. Founded by Robert C. Maynard, the Institute promotes diversity and antiracism in the news media through improved coverage, hiring and business practices. We are creating better representation in U.S. newsrooms through our programs , which gives media professionals of color the tools to become skilled storytellers, empowered executives and inspired entrepreneurs. Donate to support our programs.