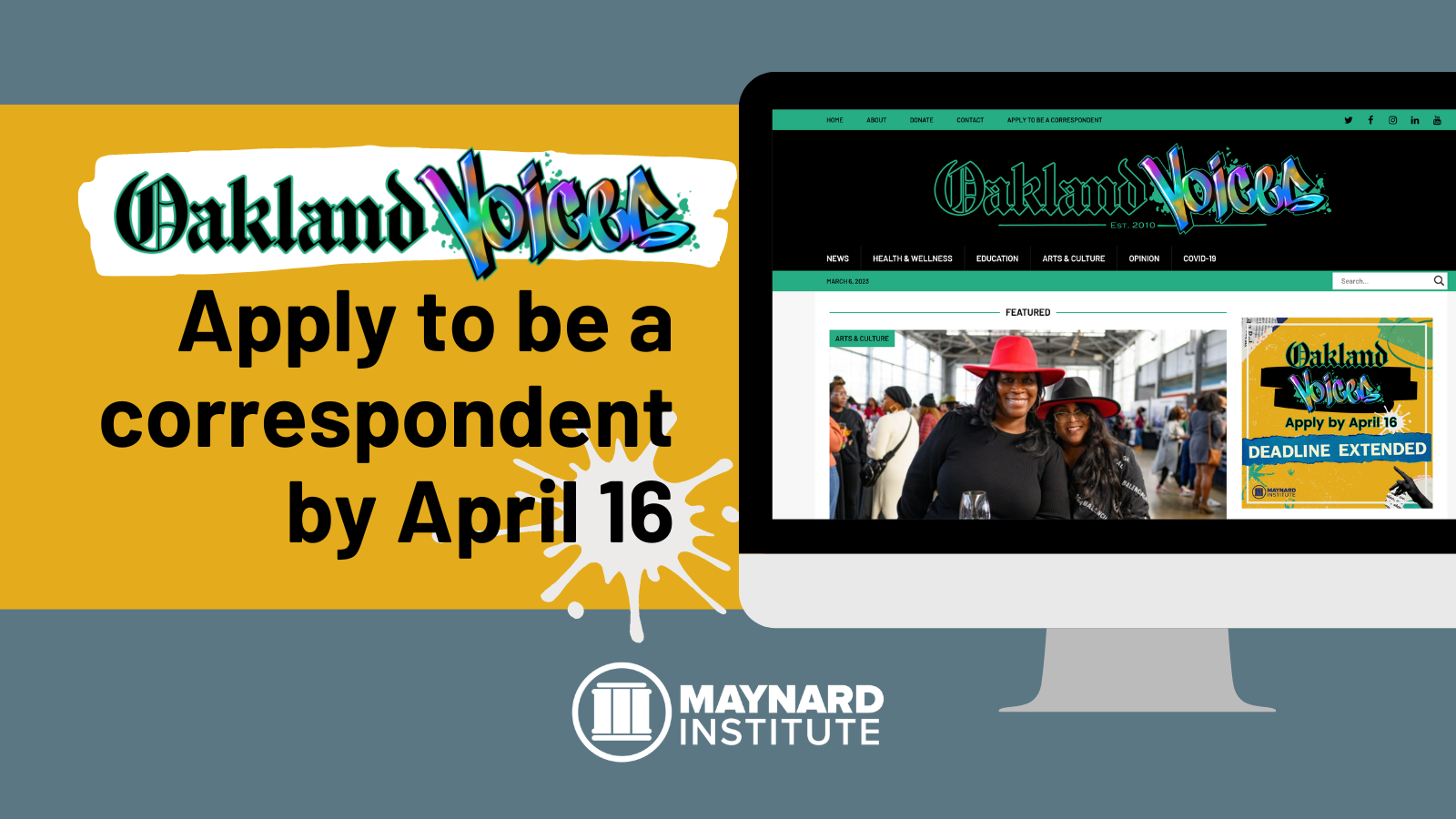 Do you live in Oakland and have a story to tell? The Maynard Institute for Journalism Education is now accepting applications for Oakland Voices, a six-month program designed to empower Oakland residents through newswriting, photography, and community storytelling. The 2023 program is hybrid model, with both in-person meetings and virtual instruction via Zoom, plus a planned in-person graduation celebration, as public health conditions allow. Correspondents will receive a $1,000 stipend for participation and completing assignments. No previous media experience required.
DEADLINE EXTENDED: Applications are due by Sunday, April 16, at 11:59 PM PDT.
Oakland Voices correspondents are trained in digital media storytelling — writing blogs and online pieces, taking photos, shooting video, and using social media to discuss issues that matter most in their communities. Correspondents also learn journalism ethics and editorial decision-making, interview basics, and story craft. They use those tools to report on a wide range of issues highlighting the triumphs and challenges of life in Oakland, including community heroes and heroines, health and wealth disparities, and more.
How to Apply
Online applications must by submitted by Sunday, April 16, 2023, at 11:59 PM PDT. Applicants must be an Oakland resident over 18 years old with access to a stable internet connection via computer or mobile device in order to participate in virtual meetings. Students in their senior year of high school are eligible and unhoused residents, low-income, and community members of color are encouraged to apply. A Google account is necessary to access the online application form. Visit the Oakland Voices website to learn more about the program requirements and submit your application.
Maynard Institute programs are open to all. The Institute is committed to addressing the under-representation of people of color and other historically disadvantaged groups in media-related professions, and so we make special efforts to recruit individuals from these groups for our programs. For questions about sponsoring an Oakland Voices correspondent or donating to the program, contact us to learn more.
History of Oakland Voices
Founded in 2010, Oakland Voices emerged from a partnership between the Oakland Tribune and The Maynard Institute for Journalism Education. Oakland Voices connects correspondents with more than a dozen media professionals to teach correspondents. Participants work individually and in teams, creating content for the Oakland Voices website. This content may also be published by program partners such as The Oaklandside or KALW Public Radio. The collaborative, applied learning approach means correspondents quickly become aware of their power and responsibility as storytellers, and as members of the media.
Staff and Alumni Correspondents
Rasheed Shabazz and Momo Chang serve as Co-directors of the Oakland Voices program. Martin Reynolds co-founded Oakland Voices and is co-executive director of the Maynard Institute. Evelyn Hsu is co-executive director of the Maynard Institute and contributes the training curriculum of the program.
Multiple cohorts of Oakland residents have completed the Oakland Voices program. Check out a summary listing of all the correspondents by project years since 2010.
Meet Oakland Voices alums at The New Parkway on March 23
Interested in meeting some Oakland Voices alums before applying? Co-Director of Oakland Voices Alumni program, Momo Chang will be a panelist at the next Culture Makers event dedicated to local journalists on Thursday, March 23 at the New Parkway Theater in Oakland, California. Learn more about the event. Space is limited. Registration required.