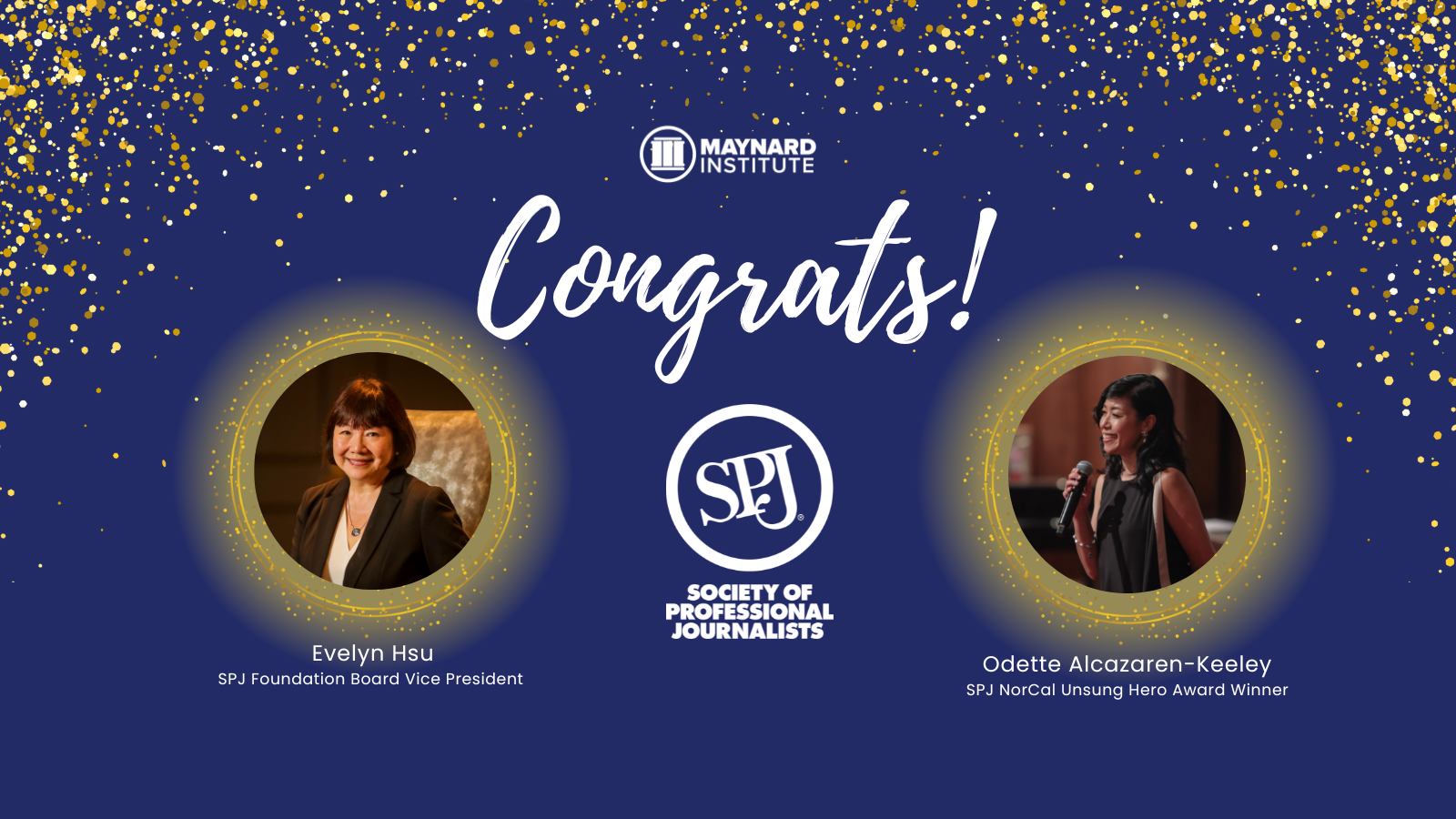 We are proud that the staff of the Maynard Institute is committed to advocating for racial equity in journalism and beyond. In addition to their work and service to the Maynard Institute mission, our organization's team members have a positive impact across the industry and their communities. In this spirit, we congratulate Co-Executive Director, Evelyn Hsu and Maynard 200 Fellowship Program Director, Odette Alcazaren-Keeley on their recent achievements.
Co-Executive Director Evelyn Hsu elected Vice President of SPJ Foundation Board
The Maynard Institute congratulates Co-Executive Director Evelyn Hsu for her election as Vice President of the Society of Professional Journalists (SPJ) Foundation board of directors. The Society of Professional Journalists Foundation (formerly Sigma Delta Chi Foundation) is a 501(c)(3) charity with a mission to perpetuate a free press as a cornerstone of our nation through their educational programs and by supporting other journalism organizations that benefit SPJ members. Hsu was elected Vice President in October for a term beginning in 2023.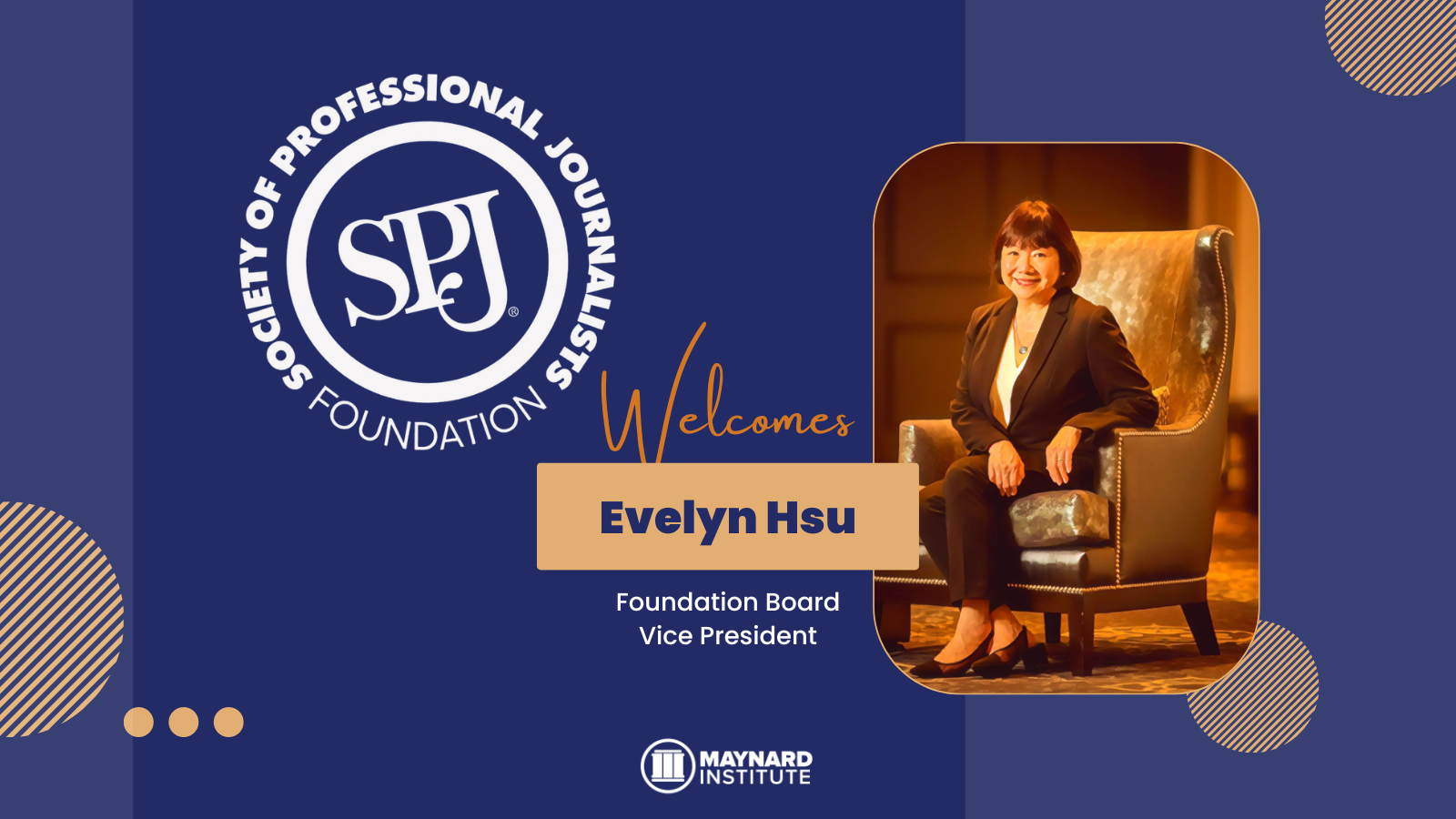 About SPJ Foundation Grants and Programs
The SPJ Foundation grants primarily support advocacy for freedom of the press and SPJ members directly but also provide support to organizations that advance the SPJ mission. Grant requests are first reviewed by the Foundation Grants and Awards Committee and then their recommendations are sent to the SPJ Foundation Board of Directors for their review and selection. Read more about the SPJ Foundation's signature programs.
Maynard 200 Fellowship Director Odette Alcazaren-Keeley received the SPJ NorCal Unsung Hero Award
On November 21, 2022, the Society of Professional Journalists, Northern California chapter (SPJ NorCal) announced the recipients of their 37th annual Excellence in Journalism Awards. Maynard 200 Fellowship Program Director, Odette Alcazaren-Keeley received the board award for Unsung Hero. SPJ NorCal has hosted the annual awards banquet every fall for more than three decades to highlight extraordinary contributions of journalists based in the San Francisco Bay Area, Sacramento, and cities and towns throughout the region.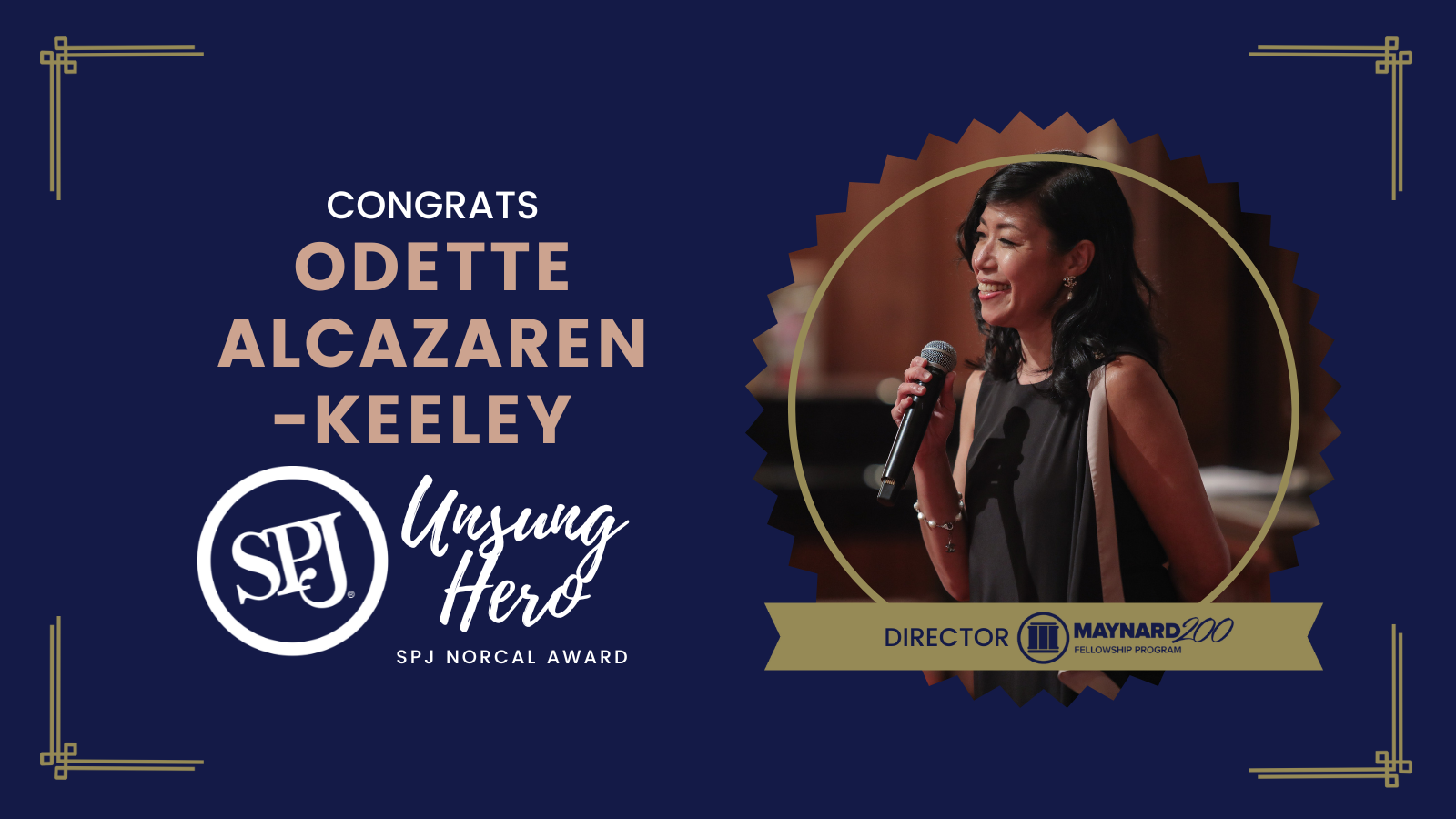 From the press release:
The board honors Odette Alcazaren-Keeley with the Unsung Hero award. As director of the Maynard 200 Fellowship with the Maynard Institute for Journalism Education, she has built one of the most powerful incubators for journalists of color in the country. She is also president and founding partner of the strategic, multicultural media consultancy Global MediaX. Alcazaren-Keeley's career commitment to lifting all voices is exemplified in her own words, that we can "heal our democracy together, regardless of and respecting each others' differing beliefs."
Join us in Celebrating the Maynard Family Impact
We often use the term Maynard Family to refer to our extended network of founders, program alumni, staff, faculty, and supporters. Hsu and Alcazaren-Keeley are not the only industry leaders affiliated with the Maynard Institute recognized by professional membership associations. Many of our board members and staff are doing important work that aligns with the institute's core values.
You can read more about the backgrounds and work of the Maynard Institute staff and board members on our website. For the latest Maynard Family updates, be sure to check out our blog and subscribe to our newsletter. Join the Maynard Family and Donate today!