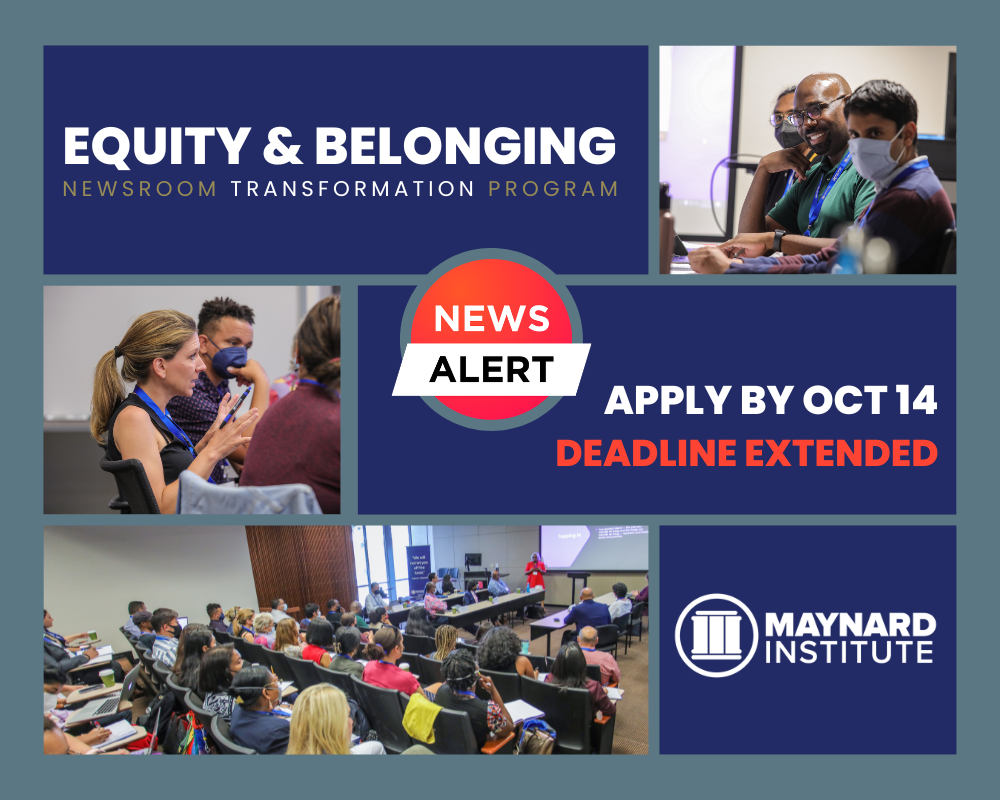 Applications are now closed.
Is your news organization ready to establish a more equitable workplace and provide better coverage of underserved communities? Subscribe for email updates about our next program application period.
What makes this program unique? The Equity & Belonging Newsroom Transformation Program leverages an embedded coaching model to help news organizations better inform underserved communities and establish workplace cultures of belonging. Our goal is to help newsrooms become more equitable and inclusive in their reporting, workplace, and in the communities they serve. The team of consultants piloting the program curriculum will work closely with Maynard Institute facilitators who are steeped in the Fault Lines® training methodology. As the extended application deadline approaches on October 14, we asked the program's consultants why they think organizations should apply. Read their bios to learn more about their expertise and check out their quotes below.
Foster innovation and nurture a sense of belonging at your organization
"Too often diversity efforts are performative. We want to operationalize belonging so that BIPOC and folks of diverse backgrounds can thrive and contribute even more meaningfully to the growth, sustainability and credibility of the outlets where they work. We want to show that when organizations invest in equity and inclusion, working relationships between people improve, there is less labor strife, attrition and toxicity. Newsrooms that center the concept of belonging foster innovation, better journalism, and more importantly, the capacity to build or repair relationships with communities. We are excited to see what we can create through this program."
Martin G. Reynolds, Co-Executive Director of the Maynard Institute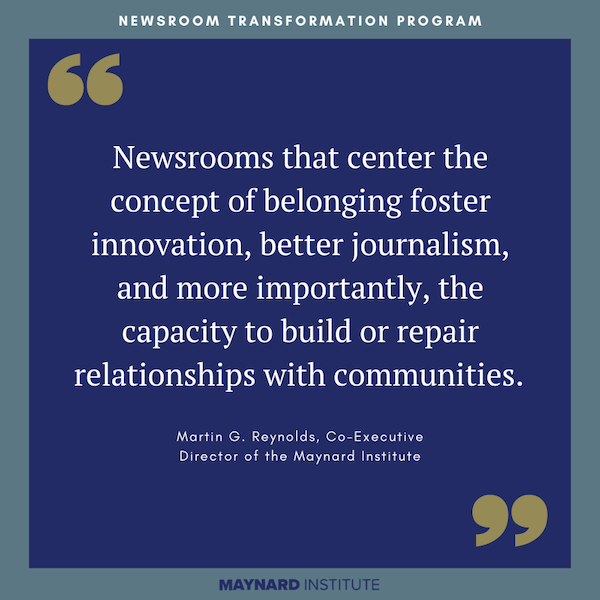 Increase the potential for revolutionary impact in your community
"Newsrooms face multiple levels of revolution internally and externally: from changing community and newsroom demographics and social and political tensions, to differing generational expectations about inclusion, work and journalism ethics. This program offers the opportunity to examine your dynamics, learn about who you are, how you work together and what your impact has been and could be on each other and in your communities. This holistic, in-depth approach aspires to help journalists of today face complex challenges with empowering insight and tools."
Mei-Ling Hopgood, Maynard Institute program researcher and Professor at the Medill School of Journalism, Media, Integrated Marketing Communication at Northwestern University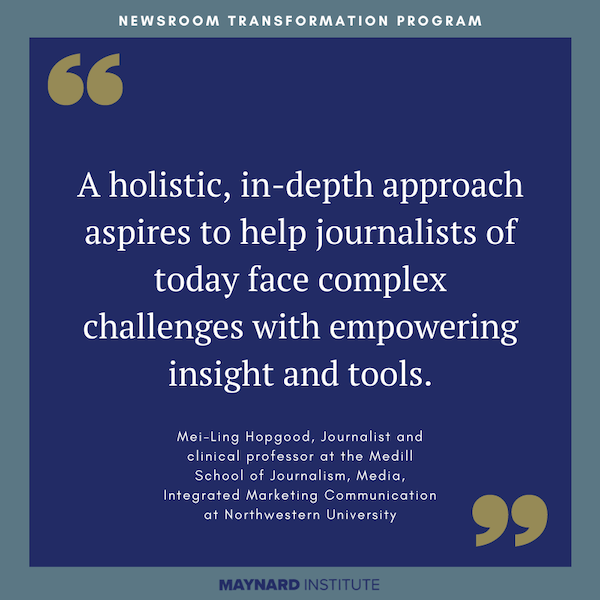 Ensure your organization's long-term sustainability
"Newsrooms are feeling the pressure and urgency when it comes to understanding and implementing best practices surrounding DEI. We are excited to support organizations as they grow in their knowledge and implement sustainable, long term investments towards strengthening the equity and inclusion in their respective newsrooms."
Kate Sultuska, Global Equity Collective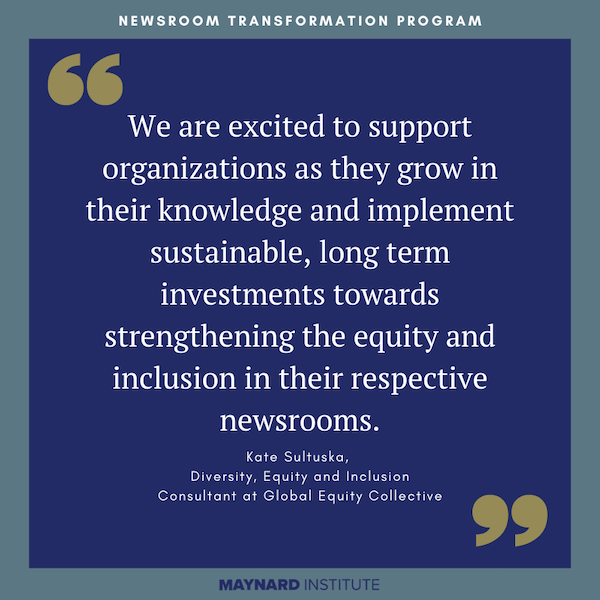 Further your organization's brand and goals
"What would it mean for your news organization to be deeply understood and deeply challenged to grow in its diversity goals? Our mission is to partner with you in that process through the Newsroom Transformation Program program. Our team holds expert credentials in journalism, law, professional leadership, counseling, management, social policy, and advanced DEIB training. This background makes us uniquely positioned to understand your newsroom's internal DEIB challenges and opportunities, as well as the essential community connections and impacts a newsroom must negotiate in today's world. DEIB has an important role to play in your institution's news voice and identity, and we promise to be a collaborative guide on that journey."
Carol Ross-Burnett, CRB LLC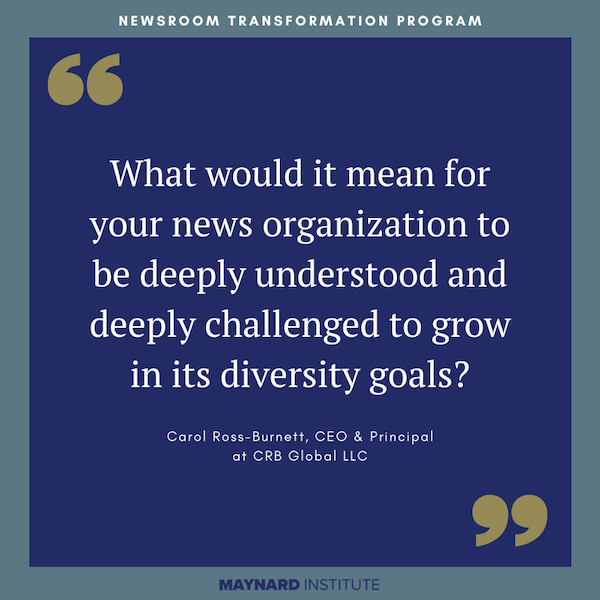 Acknowledge the urgency and societal demands for transformation
"There's never been a more urgent time for newsrooms to grapple with inequity in their own businesses and in society. We are proud to be part of this important initiative."
Anasstassia Baichorova, Global Equity Collective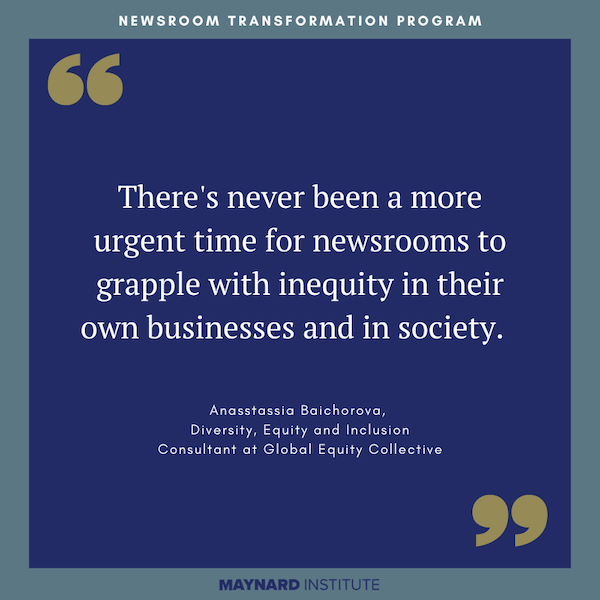 Contribute to assist media outlets for a brighter future
"This initiative presents a great opportunity to bring experts in the field together to lead two news organizations toward sustainable, equitable change. Our goal is to test methodologies, re-test, and document the processes of both pilot programs in order to replicate the work to assist future media outlets that want to make meaningful change."
Felecia D. Henderson, Director of Cultural Competency at the Maynard Institute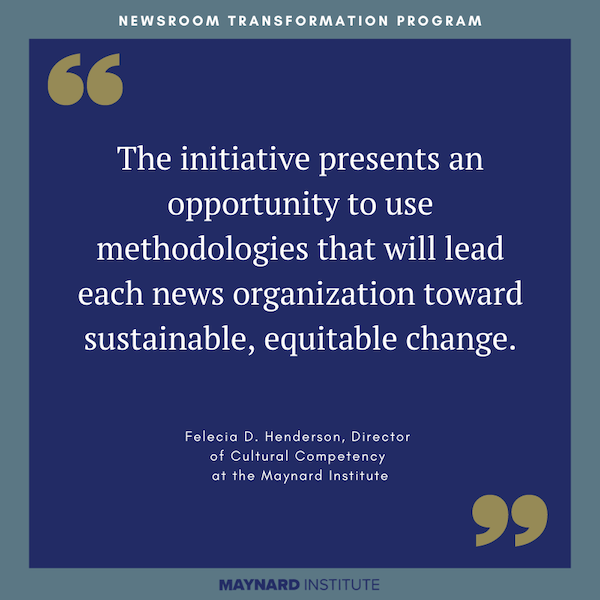 About the Program - Applications due October 14
The Newsroom Transformation Program will provide two news organizations with the opportunity to develop the tools needed to implement a sense of belonging and equity in the newsroom. The goal is to create a professional learning experience that will benefit a media outlet. The Maynard Institute wants to help contribute to best practices in community journalism and to the implementation of the Fault Lines® framework.
APPLICATIONS ARE NOW CLOSED. Application responses will be used to determine your training needs and how the training can build upon your existing knowledge, skills, and experiences. Learn more.