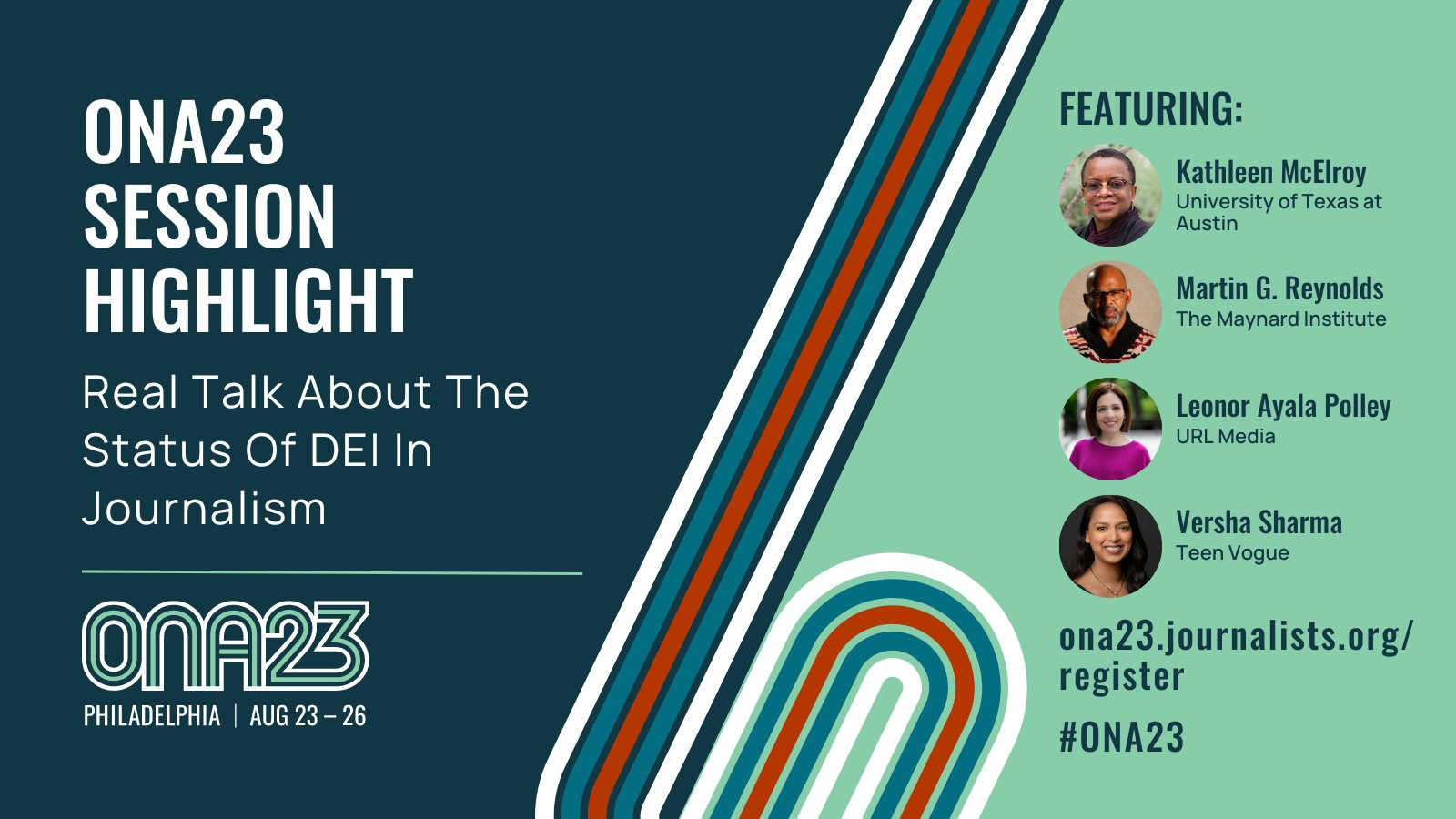 We invite you to learn about the latest digital trends, test new tools and connect with other leaders and changemakers in journalism to discuss common challenges at the Online News Association's annual conference ONA23. Join thought leaders in digital media for an unparalleled blend of learning, networking and inspiration. Taking place August 23-26 in Philadelphia, ONA23 will explore storytelling innovations, audience development strategies, revenue models, emerging technology and more. One of this year's must-see sessions features the Maynard Institute's Co-Executive Director, Martin G. Reynolds.
Real Talk About The Status Of DEI In Journalism
| | |
| --- | --- |
| Date: Friday, August 25, 2023 | Time: 11:30 a.m. - 12:30 p.m. |
Versha Sharma, Editor-in-Chief, Teen Vogue, and ONA board member, will moderate the conversation. Speakers include:
Kathleen McElroy, Professor, University of Texas at Austin
Martin G. Reynolds, Co-Executive Director, The Maynard Institute
Leonor Ayala Polley, Chief of Business Development & Partnerships, URL Media
Read the ONA23 session highlight by Carrie Blazina titled, "Let's get real about the state of DEI in journalism."
Register to attend ONA23 for this session.
More about DEI Under Attack
Vision25 partners, the Online News Association, Maynard Institute and OpenNews, will host an interactive, invite-only discussion about the future of building equity in newsrooms at ONA23. The faciliated discussion "DEI under attack: How do we meet the moment?" will explore ideas submitted in advance as well as proposed live during the event. Space is limited. RSVP required. If you're interested in attending, contact info@mije.org
*Attendees must also be registered for ONA23 to attend this in-person event.