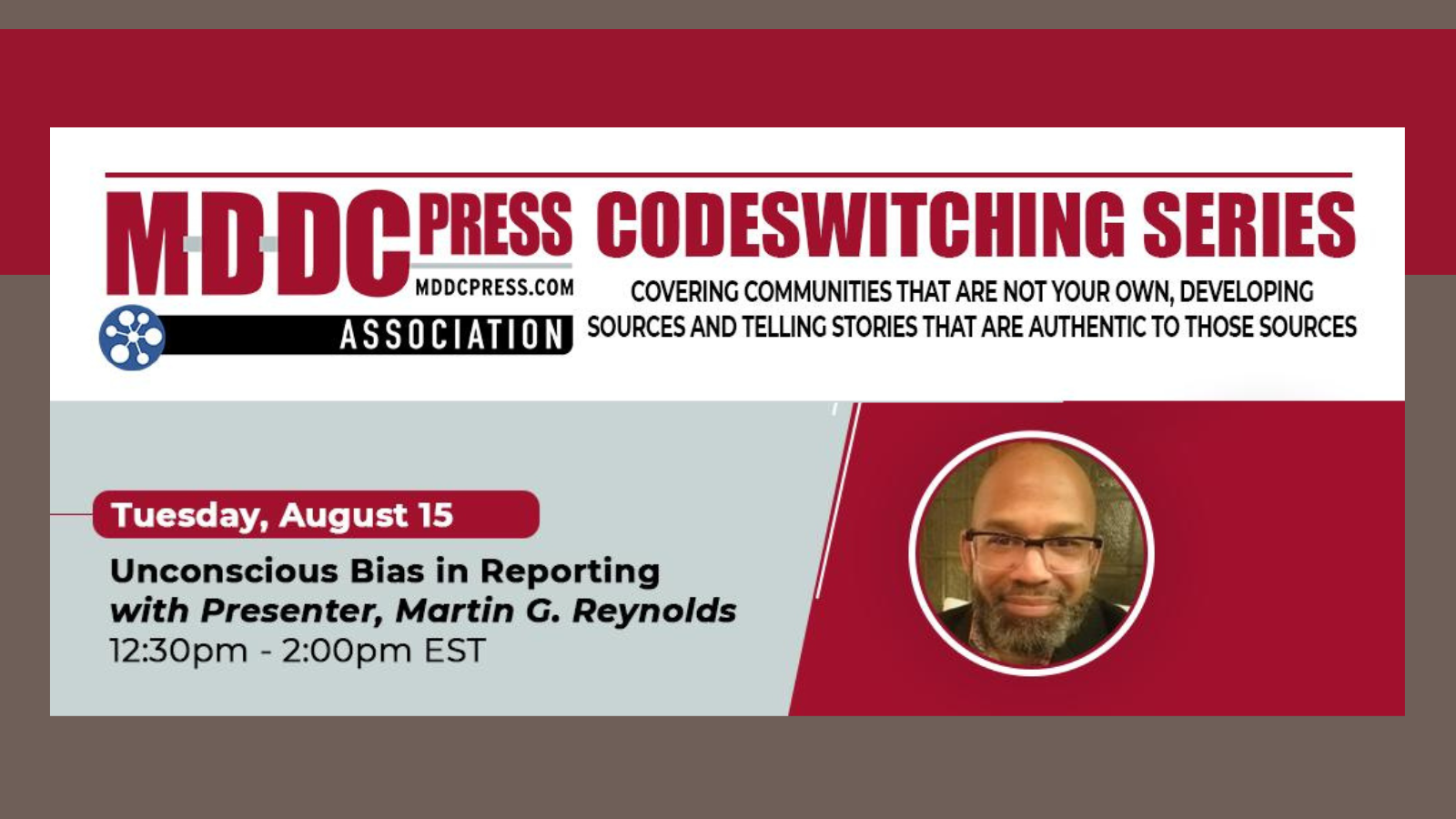 MDDC has convened experts in the field to help reporters understand how to report events in vulnerable communities – and examine their own unconscious bias that may be affecting their reporting. In this four-part Virtual Codeswitching series, experts from the Dart Center for Journalism and Trauma, the Maynard Institute for Journalism Education, and veteran journalists share their perspectives and best practices. This series is designed to reframe the way journalists approach their reporting. Join us on Tuesday, August 15 from 12:30pm - 2:00pm EDT for the fourth installment titled Unconscious Bias in Reporting.
In this 90 minute session, which will be facilitated by the Maynard Institute's Co-executive director, Martin G. Reynolds, attendees will get an overview of the institute's trademarked Fault Lines® framework, which reveals how we all see the world through the prism of race, class, gender, generation, geography, sexual orientation and other areas of self-categorization, such as religion, politics and social affiliations. How we align across these fault lines — and how they intersect — shape our biases and influence our perceptions. Those perceptions can lead to different forms of bias, such as unconscious, implicit and performance, and shape our approach to coverage, community engagement and working relationships. This session will provide a framework that can be a protection against one's own biases and tool to develop coverage that is more nuanced and inclusive.
Each session is free for members, students, and interns $20 non-member fee. Registration is required for access to the virtual events.
About Fault Lines
The Maynard Institute offers in-person and virtual diversity training sessions for newsrooms of all sizes across the country. Our program is based on addressing personal biases of race, gender, sexual orientation, generation, geography and class, as they apply to journalists, newsroom collaboration and coverage. Learn more about yow can you be a dismantler of systemic racism and othering in your news organization.
About MDDC
Founded in 1908 as the Maryland Press Association for weekly newspapers, the organization incorporated in Maryland as a nonprofit corporation in 1948 and began admitting daily newspapers to active membership that year. In 1961, it merged with the Delmarva Press Association, an organization that included newspapers in Delaware and the Eastern Shore areas of Maryland and Virginia, to become the Maryland-Delaware Press Association. In 1968, it included newspapers from the District of Columbia and became the Maryland-Delaware-D.C. Press Association, Inc.
Today, MDDC consists of two corporations, the nonprofit Association and its for-profit subsidiary, MDDC Press Service, which operates the organization's advertising programs. Additionally, in 1998 MDDC newspapers established an independent, charitable foundation, the MDDC Press Foundation, a 501(c)(3) corporation. The Association counts all of the daily and most of the non-daily newspapers in Maryland, Delaware and D.C. among its active members.
*Attendees must be registered to attend this virtual event.