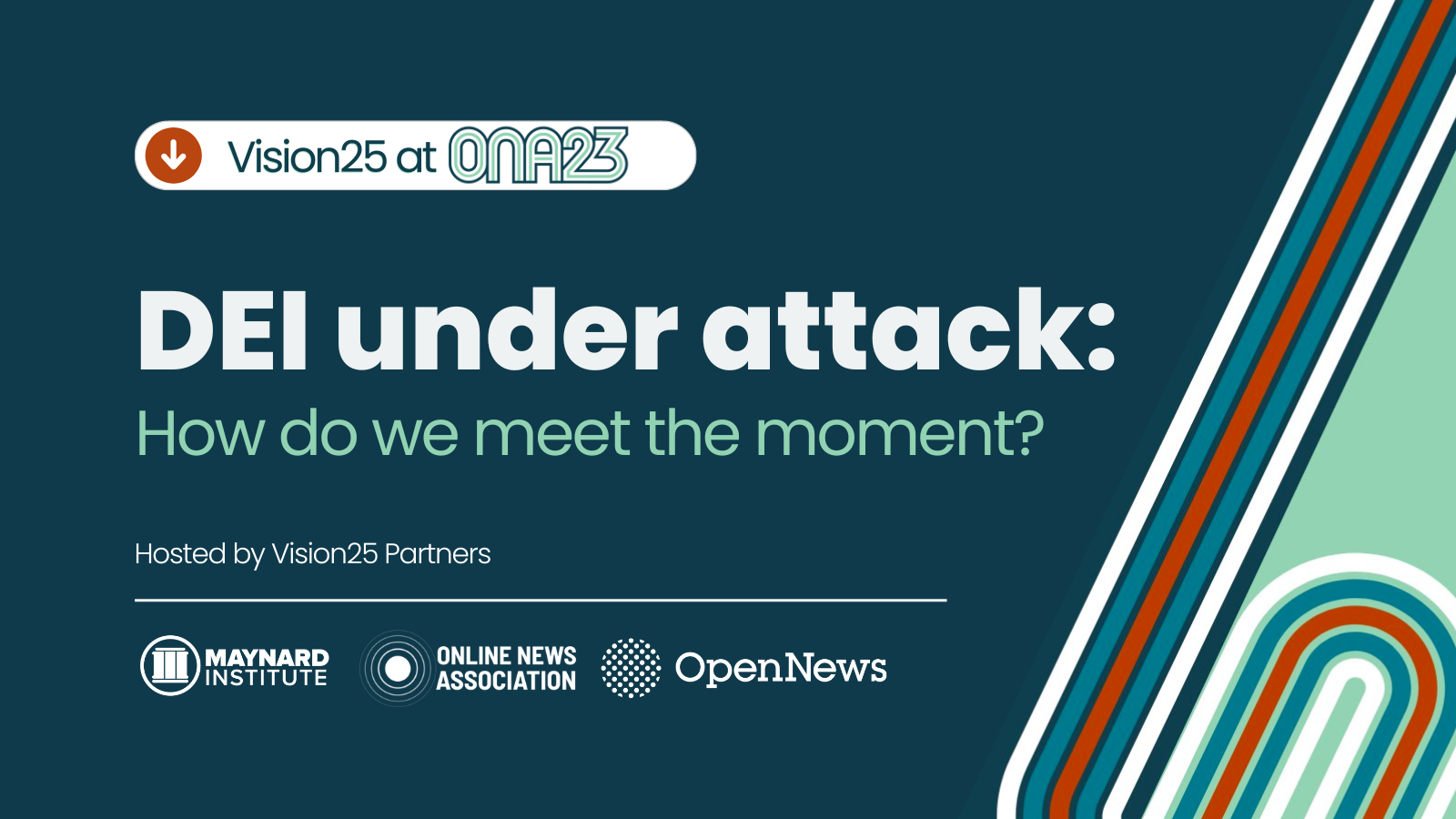 Join the Maynard Institute, Online News Association and OpenNews for a special Vision25 gathering.
DEI Under Attack: How do we meet the moment? Date: Friday, August 25, 2023 | Time: 4:00 p.m. - 5:30 p.m.
It has been three years since the Summer of George Floyd and the formation of the Vision25 partnership. What has changed? Or, perhaps more accurately, what has not changed?
In the last year, DEI positions have been disproportionately hit by layoffs across industries and political policies designed to erase the gains and lessons of this work continue to ramp up.
We are witnessing a rapid and troubling retrenchment of DEI commitments and priorities across industries, including news and philanthropy. We believe that there are opportunities to think collectively and creatively about how to reclaim the distorted narrative and to meet this moment.
In 2020, your input led us to do a series of events called Belonging in the News, where journalists shared about their journeys to find belonging. We also highlighted pay equity in journalism and unpacking the myth of journalistic objectivity.
Three years later, we ask you to join Vision25 partners, the Online News Association, Maynard Institute and OpenNews, on Friday, August 25 at 4 p.m. for a can't miss discussion about the future of building equity in newsrooms.
The facilitated discussion will explore ideas and topics submitted in advance as well as proposed live during the event.
Space is limited. RSVP required. If you're interested in attending, contact info@mije.org
About Vision25
A collaboration between the Online News Association, the Maynard Institute and OpenNews, Vision25 is designed to help build anti-racist news organizations that become institutions of belonging. Our organizations came together because we found that we were each fighting the same fight, but on different fronts, to create social change. Each of us—Online News Association, Maynard Institute, and OpenNews—had been tackling this change separately, but once we started imagining what could be possible if we combined the leadership power and reach of ONA with Maynard's training on dismantling systemic racism and OpenNews's expertise in community organizing and support, we knew that we had to join forces. Vision25 is a commitment by our three organizations to advance racial equity in journalism. Learn more about the Vision25 collaboration.
*Attendees must also be registered for ONA23 to attend this in-person event.