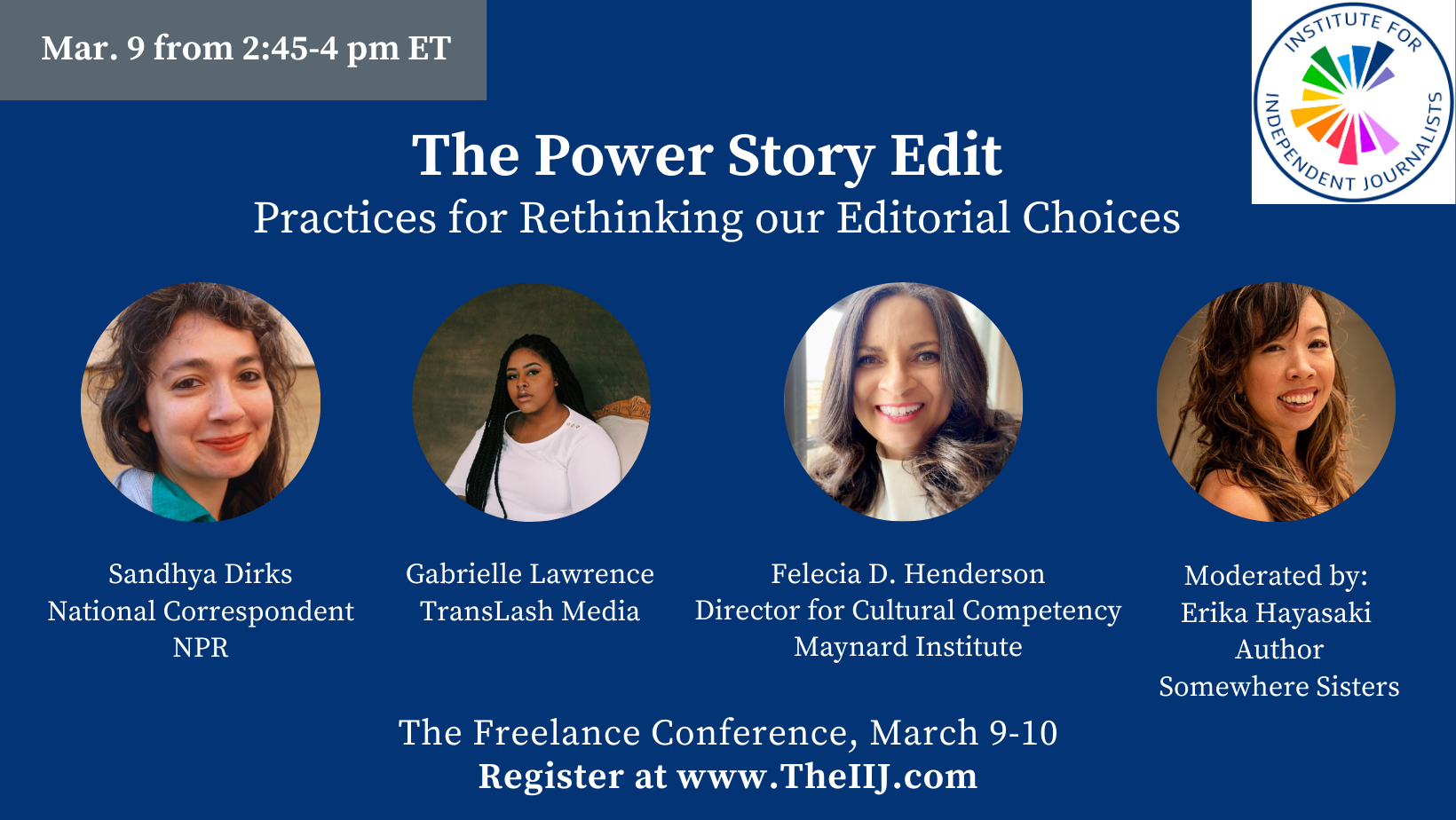 Join the Maynard Institute's Director of Cultural Competency, Felecia D. Henderson, for a session at the Institute for Independent Journalists (IIJ) Freelance Conference on March 9, 2023 at 11:45am PT / 2:45pm ET. "The Power Story Edit: Practices for Rethinking our Editorial Choices" session will examine how journalists and editors can make narrative decisions to improve professional practices and ensure better, more equitable coverage.
Panelists include:
Sandhya Dirks, National Correspondent, NPR
Gabrielle Lawrence, TransLash Media
Felecia D. Henderson, Director of Cultural Competency, Maynard Institute
This session will be moderated by Erika Hayasaki, Author of Somewhere Sisters.
Join the IIJ for a live, online #freelance journalism conference on March 9-10 with 12 information-packed interactive sessions on pitching, negotiations, fellowships, business, networking, podcasting, and interrogating power. Learn directly from editors what they want in a pitch, including the Atlantic, Wired, the New York Times, Wall Street Journal, the Guardian, the Verge, Prism, the Emancipator, Next City and more.
The IIJ's mission is to support independent journalists of color, but all are welcome at their public programs. Register today!
About Felecia D. Henderson
Since 2020, Henderson has served as a coach on Diversity, Equity, Inclusion and Belonging issues to 100-plus print and broadcast news organizations nationwide that participate in the Table Stakes digital newsroom innovation program. She also leads Maynard's signature Fault Lines® training program, the cultural competency curriculum for colleges and universities, and is a newsroom organizational change consultant.
Prior to joining the institute, Henderson was Assistant Managing Editor at The Detroit News where she was a member of the senior management team responsible for newsroom operations. In 2009, she successfully co-facilitated the largest newsroom change initiative to transition the organization to a digital news, four-day single copy, two-day home delivery model.
She began her journalism career at her hometown newspaper, The Courier-Journal in Louisville, KY, graduated from the Maynard Institute's Editing Program for Minority Journalists at the University of Arizona, and held editing roles at the Detroit Free Press and Cincinnati Post.
Henderson is a founding member of the National Association of Black Journalists' Visual Task Force. Locally, she was elected president and vice president-print of the Detroit NABJ.
Henderson earned a bachelor's degree in Radio-TV/Journalism from Murray State University, which named her a Distinguished Alumna in 2019, and a Master of Organization Development from Bowling Green State University. She holds certification in Diversity and Inclusion from Cornell University and is a certified Emotional Intelligence practitioner from RocheMartin, an international leadership development organization.
*Attendees must be registered for the IIJ Freelance Conference #IIJ23 to attend this virtual event.
---
The Maynard Institute offers in-person and virtual diversity training sessions for newsrooms of all sizes across the country. Our program is based on addressing personal bias Fault Lines® of race, gender, sexual orientation, generation, geography and class, as they apply to journalists, newsroom collaboration and coverage. For more information about whether your newsroom is ready to help dismantle systemic racisim, read more about our training options on our website.