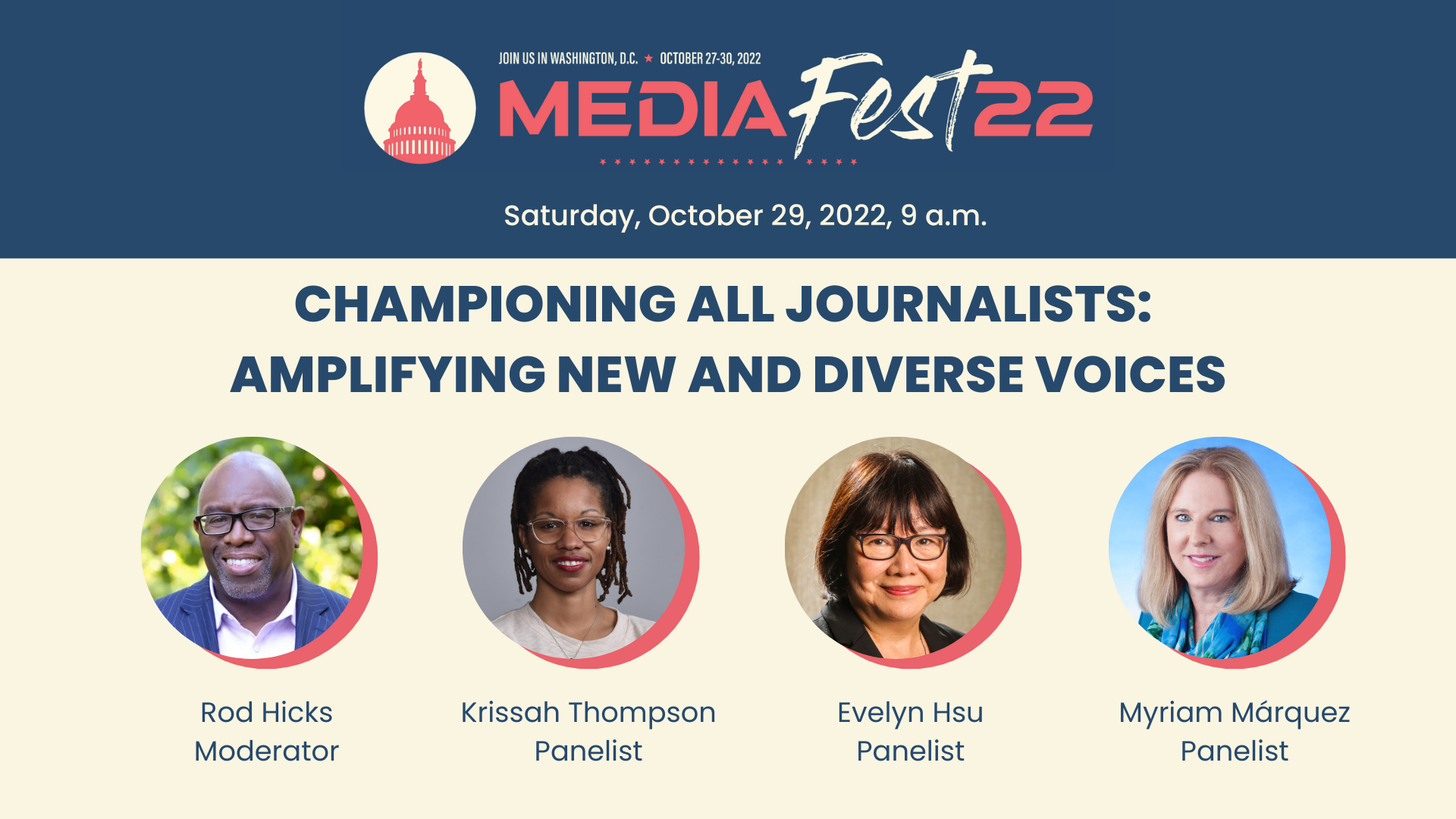 The Society of Professional Journalists (SPJ), Associated Collegiate Press (ACP), and College Media Association (CMA) are hosting MediaFest22 in Washington, D.C., from Oct. 27-30. MediaFest22 is a unique and inspiring journalism convention experience, bringing together professional journalists, student journalists and college media advisers from every area of journalism, from across the country. Join the Maynard Institute's Co-Executive Director, Evelyn Hsu and other panelists Saturday, October 29 at 9:00am ET, for session titled, "Championing All Journalists: Amplifying New and Diverse Voices."
As news organizations put more focus on building welcoming workplaces that reflect the rich diversity of the nation, all of their employees should understand the value of these efforts, what success looks like and the role they can play. In this session, panelists will give practical examples of what news organizations can do to diversify their staffs and make their newsrooms more inclusive, and what journalists can do to diversity coverage. You'll also learn about resources SPJ has to help you address race and gender issues with sensitivity, nuance and accuracy and find diverse expert sources for your stories.
Moderator
Rod Hicks is director of ethics and diversity at the Society of Professional Journalists, where he's an advocate for high journalistic standards and stories inclusive of the full community. Hicks previously was an editor for The Associated Press and has held editing positions at several newspapers across the country.
Panelists
Krissah Thompson's first job at The Washington Post was intern. Now she's managing editor of diversity and inclusion, the first Black woman there to hold the managing editor title. At The Post, Thompson also has served as a business reporter, covered presidential campaigns and written about civil rights and race.
Longtime diversity advocate Evelyn Hsu is co-executive director of the Maynard Institute for Journalism Education and a graduate of its Summer Program for Minority Journalists early in her career. Hsu, a former reporter at the San Francisco Chronicle and Washington Post, is past president of the Asian American Journalists Association.
Myriam Márquez is executive director of the News Leaders Association, which conducts leadership training and attempts to track newsroom diversity through a survey of news outlets. Márquez previously was executive editor of el Nuevo Herald and the first woman and Hispanic to serve as opinion editor at the Miami Herald.
*Must be registered for MediaFest22 to attend this in-person event.